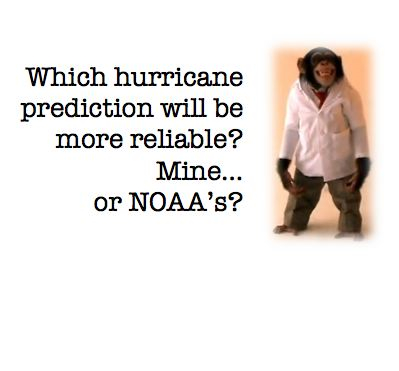 Chimp Predicts 6-8 Atlantic Hurricanes in 2010
The National Oceanic and Atmospheric Administration's track record in predicting the number of Atlantic hurricanes is so abysmal that a trained chimp could do better, says The National Center for Public Policy Research, a Washington, D.C.-based think tank.
The group is putting this claim to the test, issuing a 2010 Atlantic Hurricane Forecast today determined by a chimpanzee, "Dr. James Hansimian."
[...]
The forecast is being issued in advance of NOAA's May "Atlantic Hurricane Season Outlook," expected to be released next week.
"NOAA's May outlooks have been wrong three out of the last four years – or 75% of the time," said David Ridenour, vice president of The National Center for Public Policy Research. "We think our chimp can do better. He hasn't been wrong so far. Of course, this is his very first hurricane season forecast."
[...]
Watts Up With That?