A couple of weeks ago, Dr. Phil Jones, the former director of the East Anglia University Climatic Research Unit and central figure in the Climategate scandal, made a few interesting comments to the press...
Climategate U-turn as scientist at centre of row admits: There has been no global warming since 1995
By
Jonathan Petre
Last updated at 5:12 PM on 14th February 2010
[...]
He further admitted that in the last 15 years there had been no 'statistically significant' warming, although he argued this was a blip rather than the long-term trend.
The Daily Mail
The no "statistically significant" warming since 1995 comment certainly was a bombshell... But, what exactly does he mean by "statistically significant"?
A plot of the HadCRUT3 temperature series since 1995 certainly seems to show a warming trend...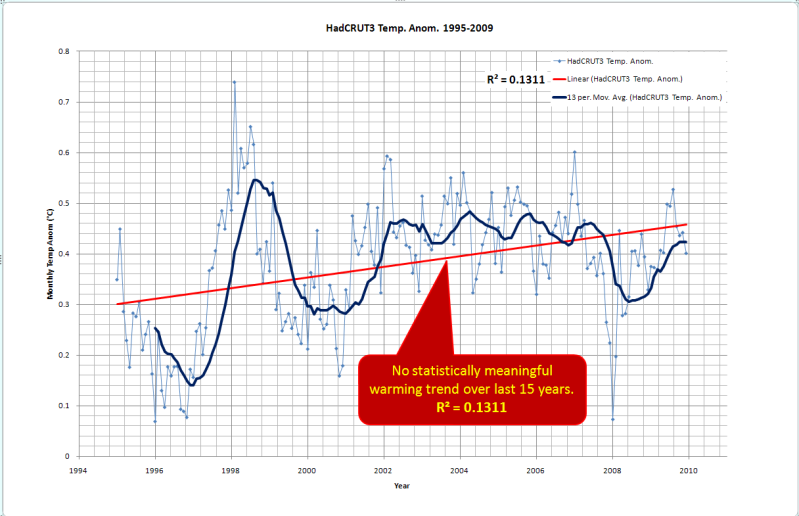 Fig. 1:
HadCRUT3 1995-2009
However, this trend is not "statistically significant." The correlation coefficient (or r-squared) value is only 0.13. This means that only 13% of the data fit the linear trend.Since 1998, the data show no trend at all...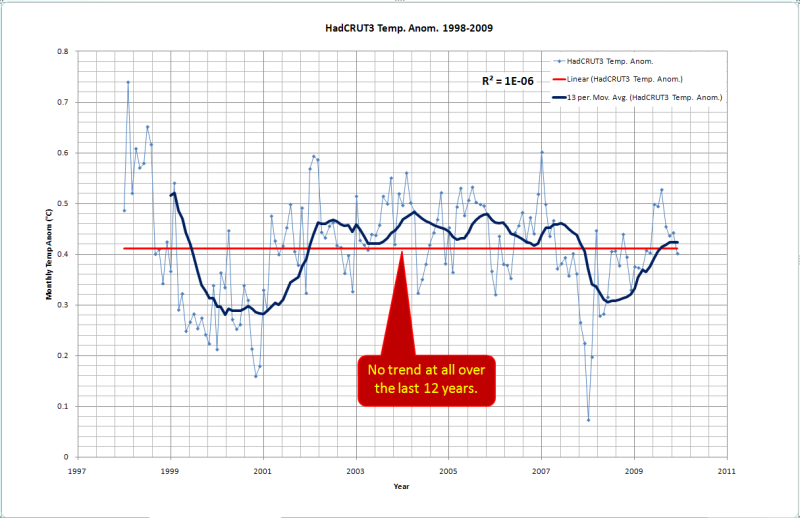 Fig. 2:
HadCRUT3 1998-2009
Since 2003, HadCRUT3 shows a statistically insignificant cooling trend...
Fig. 3:
HadCRUT3 2003-2009
One of the "problems" with the way climate data are handled is in the obsession with applying linear trend lines to non-linear data.
A Sine wave has no linear trend...
Fig. 4:
Sine Wave (From Wood For Trees)
But... What happens if my data represent only a portion of a Sin wave pattern?
Fig. 5:
A partial Sine wave apparently has a very significant secular trend.
The r-squared of a linear trend line of this partial Sine wave is 0.88... 88% of the data fit the trend line. This implies a very strong secular trend; yet, we know that in reality Sine waves do not have secular trends.
If we take the entire HadCRUT3 series and apply a linear trend line, we get an apparent secular trend...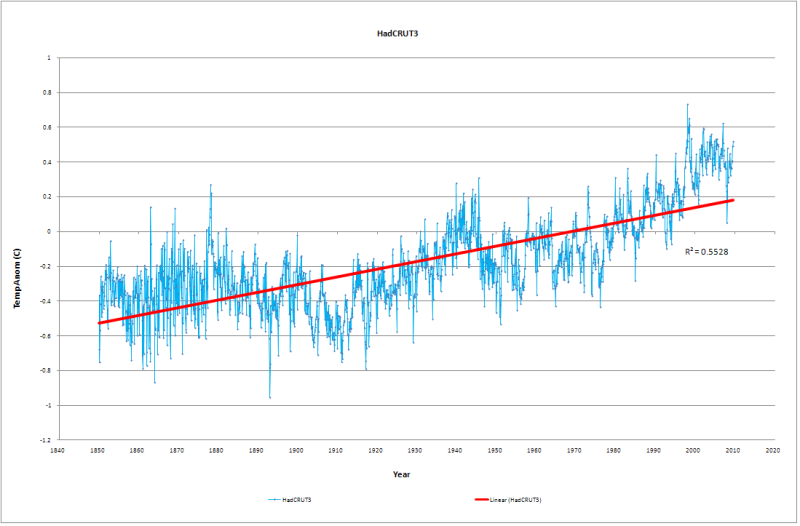 Fig. 6:
HadCRUT3 Temperature Anomaly 1850-2009
The r-squared is 0.55... 55% of the data fit the secular trend. This implies that there is a real long-term warming trend.
What happens to that secular trend if we expand our time series like we did with the Sine wave?
The apparent secular trend vanishes in a puff of mathematics...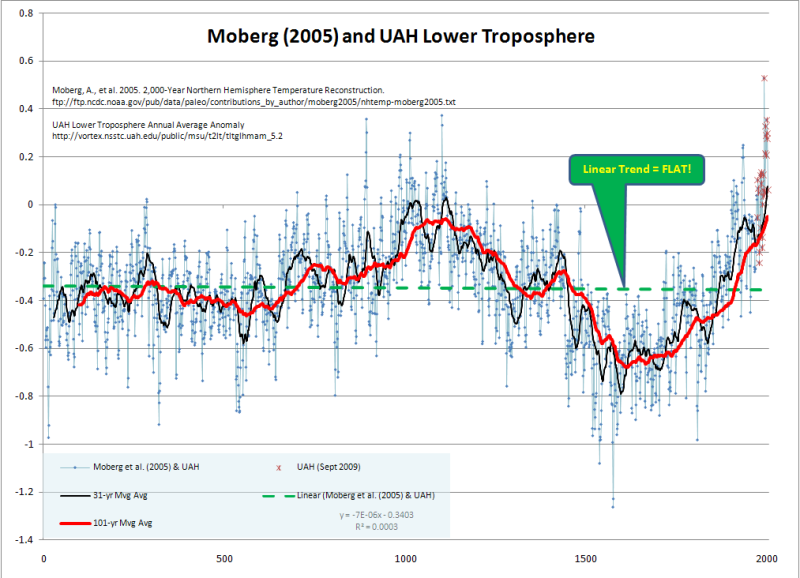 Fig. 7:
Moberg et al., 2005 Climate Reconstruction
How can such a clear secular trend vanish like that? The answer is easy. Each "up hill" and each "down hill" leg of a Sine wave has a very strong secular trend. Unless you have enough data to see several cycles, you don't know if you are looking at a long-term trend or an incomplete cycle.
If we take the HadCRUT3 series and compare the the period from 1912-1945 to the period from 1975-2009, we find that they are statistically indistinguishable (a fact Dr. Jones acknowledged in the Mail article)...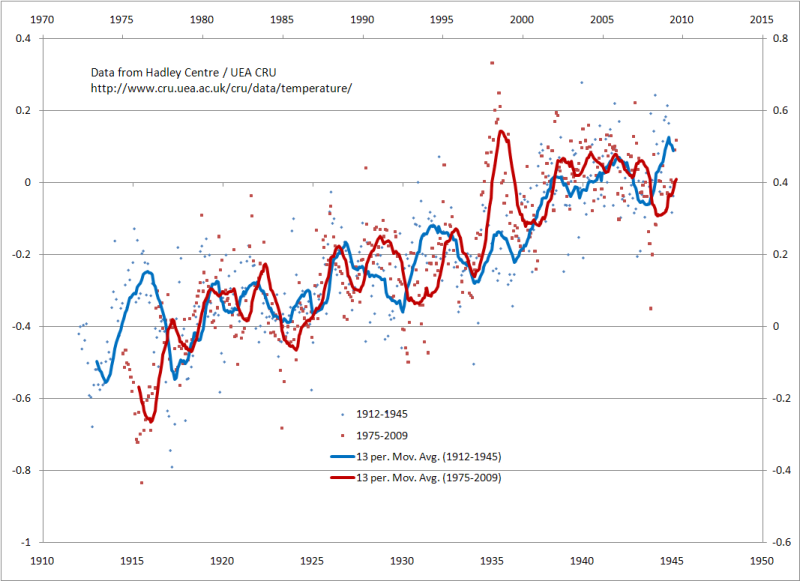 Fig. 8:
HadCRUT3 1912-1945 vs. 1975-2009
We also find that Moberg's Medieval Warm Period reconstruction is very similar to the HadCRUT3 series...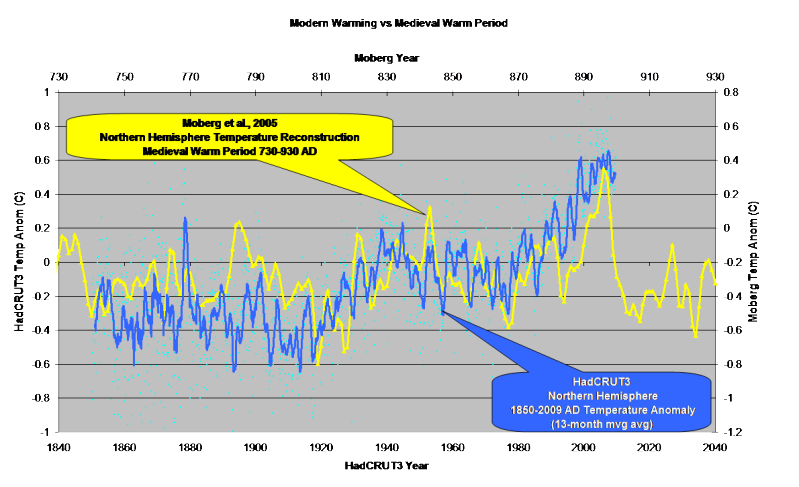 Fig. 9:
HadCRUT3 vs. Moberg Medieval Warm Period Reconstruction