There is a set of five
prints by Daniel Hopfer of Ottoman Sultan Süleyman and his cortege
after earlier prints by Jan Swart.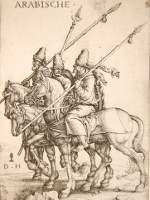 The originals by Swart may not have had many captions. Hopfer has captions as
Three Ottoman trumpeters
,
Mamalucke
,
Haiden (Pagans)
&
Arabische (Arabs)
but versions appear in
the Códice De Trajes
with different captions: MOSQVWITER rather than Mamalucke, THIRCKEN rather than Haiden and TATERN rather than Arabische.
Does anyone have the originals by Jan Swart?
MIRROR SITE
Prints by Daniel Hopfer of Süleyman and his cortege
Druzhina
Illustrations of Ottoman Costume & Soldiers