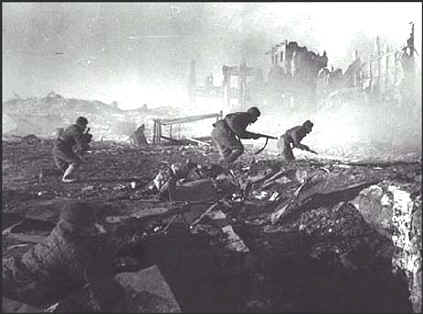 The Battle for Stalingrad was the bloodiest battle in human history, and over 1.5 million casualties were caused during its length from the 17th of July, 1942 to February 2nd, 1943. It is considered one of, if not
the
, turning point of the war in Europe.
So, what would have happened if things had gone differently? What if the Germans were able to secure the city in only a month of hard fighting, or encircled the Soviet defenders instead of fighting within the city proper?
The Russians were hard pressed during the fighting, and the Germans nearly won historically. So imagine a scenario where the Germans surround the Soviet defenders in the city and secure the far bank early in the fight, a stroke of luck letting them gain bridgeheads before the Soviets could respond. Surrounded on all sides, the Soviet commander in the city soon surrenders despite Stalin's orders not too, and the Germans gain control of a fairly intact Stalingrad with a minimal loss of life.
Would the existence of the 6th Army, mostly intact and in control of the vital Volga river crossing, have allowed the Germans to secure victory? Or would the Germans have only delayed the inevitable for a while longer?
The Russians were outnumbered initially by about 83,000 men, and the Germans did have the edge in numbers of aircraft by a large ratio (2:1 at the very begining, and much higher later).

Linky.