Hi guys,
I just found out about this new rifle for the British armed forces. Looks like a very nice job to me. Wouldn't mind having a shot of one, if I got the chance. On a rifle range, of course. (Plywood targets don't shoot back
)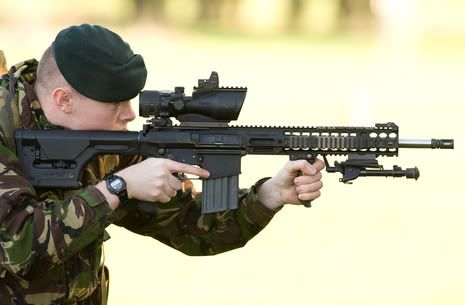 Quote:
"UK's first new infantry combat rifle to be issued to troops for more than 20 years has arrived in Afghanistan and is being used by Royal Marines from 40 Commando.

The Sharpshooter rifle fires a 7.62mm round and enhances accuracy of engagement during longer-range firefights.

The Sharpshooter's considerable range takes it into the realm of sniper territory, but it requires far less training, being more similar to the standard service rifle than the highly-specialised weapons used by those in the sniper profession:

A Royal Marine Sergeant of 40 Commando said: "I have fired over 1,000 rounds on the rifle in training; accurately hitting targets over 800 metres away. The new Sharpshooter rifle provides quick and accurate fire, with the flexibility of using it in the assault rifle role as well. It's hoofing."

More than 400 of the semi-automatic L129A1 Sharpshooter rifles have been bought as an Urgent Operational Requirement."