About 1 year ago I started a weekly thread highlighting different guns from the past 200 years,everything from the well known to the absurd.
I got good feedback the last time I started this but due to some computer issues I haven't been on Armchair General for over a year,I would like to start this back up and I would seriously like your guys feedback if I should continue with this weekly thread or if it is a not so good idea. Well let's begin with my first weapon,An odd little french rifle.
MAS 49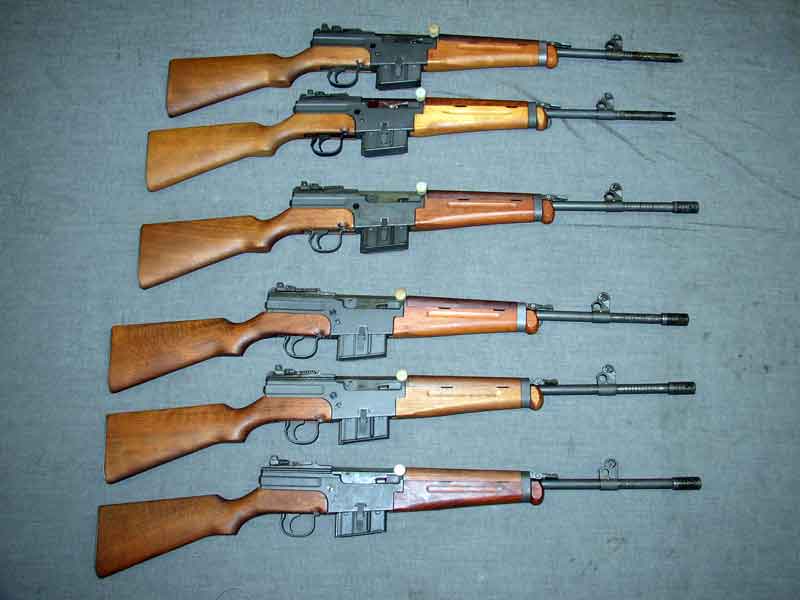 [assorted Mas 49's]
Cartridge: 75 x 54mm French Service
Length: 1100mm (43.3in)
Weight: 10lb 6oz
Barrel: 22.83in
Rifling: 4 grooves
Magazine Capacity: 10 rounds
In Production: 1951-1965
After WWII the French Army was in desperate need of a modern service rifle to relpace the collection of pre-war weapons, acquired from various sources, with which it was equipped at the cessations of hostilities. Work had been started on a design for an automatic weapon as early as 1924 but all development was halted by the German invasion of 1939. In 1944, with the liberation of France, work was once again resumed and culminated in to the MAS 49 that was issued to the troops in 1949. It bore a strong family resemblance to the MAS 36 espically in it's two part stock and slab-sided receiver. The new weapon,however was a semi-automatic. Gas-operated, it used direct gas blast to blow the bolt carrier backwards,instead of the more usual piston. 1956 saw the introduction of a slightly improved model, the MAS 46/56. The modifications were made to conform more closely to NATO standards and consisted of changing the muzzle into a NATO standard grenade-lauching configuration, with 22mm gas sealing rings. The fore-end was shortened to allo the grenade tail to fit over the barrel and the front sight re-located to a ramp behind the grenade stop ring. A special grenade sight was also added. The MAS 49 remained the standard French rifle until the arrival of the FAMAS in 1980, when large numbers were handed over to the former French colonies.
Information sourced from the book: Illustrated Guide to Combat Weapons.