As we enter into a new era of armored, aviation and naval warfare, one development that has caught my eye is the use of guided munitions for conventional 155 mm artillery. No longer does artillery need to be as carefully calibrated, charted, and corrected to be effective. All one gun needs are satellites triangulating a target and be able to provide artillery fire within 5-20 m instead of the traditional 200-300 m of unguided shells. It's also capable of providing suppressive fire within 150 feet of friendly troops. Also range has been increased by a factor of three, from 16 km from a traditional 155 mm shell to 57 km on the M982 Excalibur shell.
BAE Systems Armaments Systems and Lockheed Martin are cooperating developing munitions for a 155 mm naval gun, the Advanced Gun System and the Long Range Land Attack Projectile (LRLAP), with a max range between 140-190 km. The longest range rocket assisted projectile fired from a M109 howitzer is 30 km.
The M712 Copperhead is a laser guided 155 mm artillery shell, which has a max range of 16 km, but is being proceeded by the GPS guided M982 Excalibur artillery shell, which has a max range of 36-57 km. The XM1156 Precision Guidance Kit by BAE Systems and Alliant Techsystems is a program to retrofit precision guidance system for existing 155 mm artillery shells.
Now my question is whether the M109A6 Paladin and the M777 howitzer have the ability to match capabilities of the 155 mm naval gun on the new
Zumwalt
class destroyer? Is the turret design and technology too different to simply be retrofitted to land based platforms? Would it be possible to build a tracked version of the Advanced Gun System to replace our aging M109s? What are the disadvantages and advantages of a GPS guided artillery shell over a laser guided one? What are the disadvantages of a laser guided artillery shell? If this were possible, would it be possible to retrofit this GPS guidance onto 120 mm shells used in the M1 Abrams? If the Oto Melara 127/64 naval gun can fire guided artillery shells 120 km why not a 120 mm gun? In fact, that is what XM1111 Mid-Range Munition (MRM) is being developed to do, but has dual-mode semi-active laser/imaging infrared guidance system. Now is that the best guidance combination for land based gun platforms, or is it possible to have three?
This is interesting:
Post #10, by little icebear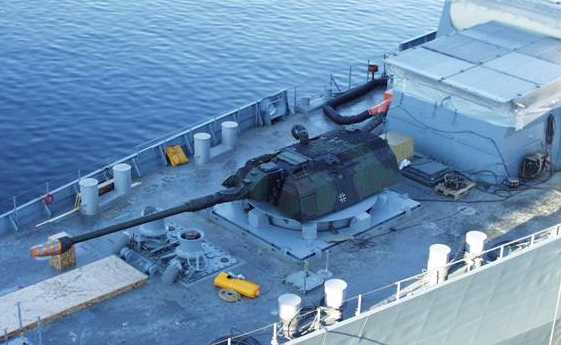 Monarc, which stands for "Modular Naval Artillery Concept", is a joint development of Rheinmetall Defence, Krauss-Maffei Wegmann GmbH, ThyssenKrupp Marine Systems and Thales Nederland B.V. The concept calls for mounting the turret of a 155 mm army artillery system onto the deck of a frigate-sized ship. The consortium selected Germany's PzH2000 self-propelled howitzer as the turret system, which is capable of engaging targets at ranges of up to 40 kilometres (Rheinmetall is currently working on a new generation of ammunition with twice the range). The turret system has been successfully installed on a German Navy 124-class frigate. Thanks to Monarc, the world's navies can benefit from the German defence industry's technological lead in the domain of large-calibre artillery systems.
http://www.militaryphotos.net/forums...ced-Gun-System
Now, will this work the other way around? Mounting naval guns on tracked or towed chassis?
Advanced Gun System
http://en.wikipedia.org/wiki/Advanced_Gun_System
http://en.wikipedia.org/wiki/Long_Ra...ack_Projectile
http://en.wikipedia.org/wiki/M777_Lightweight_Howitzer
http://en.wikipedia.org/wiki/M712_Copperhead
http://en.wikipedia.org/wiki/M982_Excalibur
http://en.wikipedia.org/wiki/XM1156_...n_Guidance_Kit
http://www.globalsecurity.org/milita...ions/m1156.htm
http://en.wikipedia.org/wiki/XM1111_Mid-Range_Munition
http://en.wikipedia.org/wiki/Otobreda_127/64