I noticed in "Oriental Armour of the Near and Middle East from the Eighth to the Fifteenth Centuries as Shown in Works of Art" by M. Gorelik, in: <i>Islamic Arms and Armour</i>, ed. R Elgood, London 1979; a couple of figures with helmets that are flat on the top: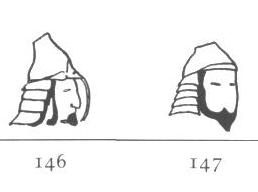 I looked these up in the source given:
The Ilkhanid Mongol Kitāb-i-Samak 'Iyār, by Ṣadaqah Ibn Abī al-Qāsim Shīrāzī
and found that the
flat topped helmets in folio 268b
were actually colouring-in over the lines (or smudged). The outline of pointed helmets can be seen.
So best to avoid making or buying figures based on this.
The Bodleian Library have changed their online system so I haven't been able to get a bigger detail to check if one helmet has a nasal.
Druzhina
Ilkhanid Mongol Illustrations of Costume & Soldiers