Contemporary images of 13th century Saracen mounted-crossbowmen are rare but they do exist.
An image of an
Ayyubid mounted-crossbowman on a Glass Water-Flask, Syria, 1250-60
. The trigger mechanism can be seen.
Other illustrations of
Ayyubids on a Glass Water-Flask, British Museum 1869,0120.3
Another illustration from the Levant is
The base of the Freer Canteen, with friezes of Christian or Muslim horsemen including two mounted-crossbowmen.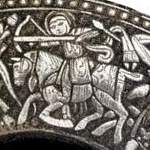 From a later period is
Mamluk mounted crossbow & bow shooting
in
Kitsab al-makhzun jami` al-funun by ibn akhî hizâm - A Mamluk manual of military practice and horsemanship, Egypt or Syria, 1470
Druzhina
Illustrations of Egyptian and Syrian Costume & Soldiers