1. Inuit (Arctic regions of Greenland, Canada, and the United States)
2. Assiniboine (Northern and Central Plains)
3. Tarahumaras (Mexico)
4. The Salish (British Columbia)
5. Maya (Mexico)
6. The Iroquois Confederacy (Ontario, Quebec and Western New York)
7. Navajo

8. Cherokee
http://en.wikipedia.org/wiki/Cherokee

I am proud to say I am of the 'Eastern' Cherokee.

The Cherokee refer to themselves as Tsalagi or Aniyvwiyaʔ, which means "Principal People." The Iroquois, who were based in New York, called the Cherokee Oyata'ge'ronoñ (inhabitants of the cave country).

Many theories – though none proven – abound about the origin of the word Cherokee. It may have originally been derived from the Choctaw word Cha-la-kee, which means "those who live in the mountains", or Choctaw Chi-luk-ik-bi, meaning "those who live in the cave country".[7] The earliest Spanish rendering of Cherokee, from 1755, is Tchalaquei.[8] Another theory is that "Cherokee" derives from a Lower Creek word, Ciló-kki, meaning someone who speaks another language.[9] The most likely derivation, however, is an Anglicisation of their autonym, or name for themselves: Tsalagi in their language.

Eastern Band
The Oconaluftee Cherokee of the Great Smoky Mountains were the most conservative and isolated from European-American settlements. They rejected the reforms of the Cherokee Nation. When the Cherokee government ceded all territory east of the Little Tennessee River to North Carolina in 1819, they withdrew from the Nation.[44] William Holland Thomas, a white store owner and state legislator from Jackson County, North Carolina, helped over 600 Cherokee from Qualla Town obtain North Carolina citizenship, which exempted them from forced removal. Over 400 Cherokee either hid from Federal troops in the remote Snowbird Mountains, under the leadership of Tsali (ᏣᎵ),[45] or belonged to the former Valley Towns area around the Cheoah River who negotiated with the state government to stay in North Carolina. An additional 400 Cherokee stayed on reserves in Southeast Tennessee, North Georgia, and Northeast Alabama, as citizens of their respective states. They were mostly mixed-race and Cherokee women married to white men. Together, these groups were the ancestors of the federally recognized Eastern Band of Cherokee Indians, and some of the state-recognized tribes in surrounding states.



Sequoyah-Inventor of Cherokee syllabary.



Eastern Band Flag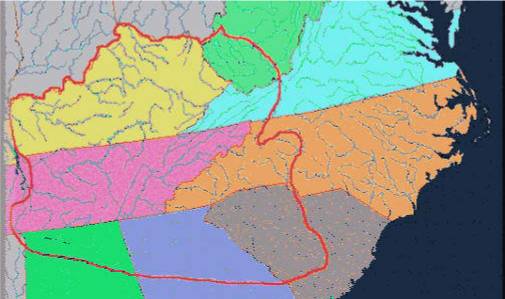 1838 Cherokee Nation Map.