Dear Mrs,
In this link have information about KIA of one People Army of Vietnam (NVA) officer: Mr Tran Khanh Tuong - XO of 22nd Regt - 3 NVA Division, KIA in 1 Mar 1967 (Page 1) at BS874167.
Any one have more detail about this event?
Thanks!
Area in google map:
http://wikimapia.org/#lang=vi&lat=14...9&z=15&m=b&v=2
http://www.vietnam.ttu.edu/virtualar...=F034609192425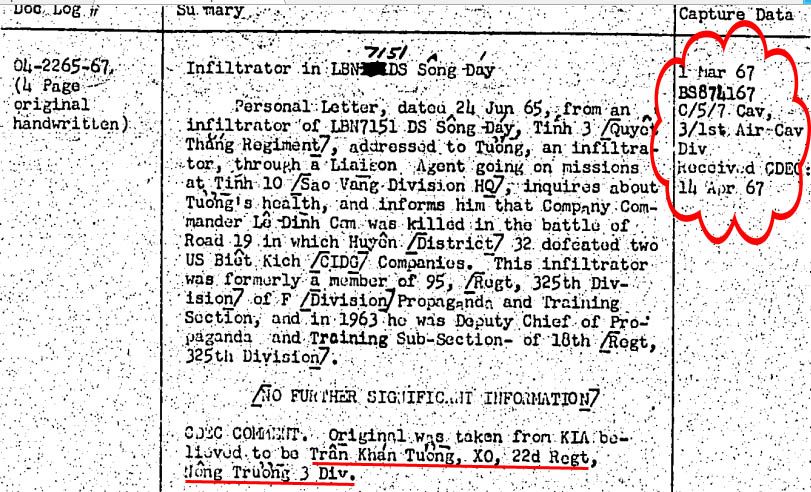 Translation by Altus
[=======================]
The following is an email by the son of the commander of the 22nd Regiment, 3rd Division to Rong Xanh:
************************************************** ******
In 1961, my father returned to the South with his unit. His AO was the 5th Military Region. My family in Nghe An then received the notification of (his) death in 1970. I was a child then, but my mother later told me that in 1969 a man from the same unit, whose wife was also a regroupee and knew my family, was wounded and sent to the North for treatment. He told his wife "Mr Tuong, husband of Mrs Van was killed in action. Does his family know? He was killed in the area of Hill 10, Hoai Nhon, Binh Dinh." He died afterward of the wounds.
After 1982, I worked in Da Nang. Using those scarce details, I was looking for that Hill 10, also with the help from friends in Hoai Nhon, Binh Dinh. In 1992, a friend told me about a man named Thu, a district deputy military commander, who was the hamlet commander of the Thi Tuong hamlet during that time and knew the circumstances of my father's death. His account was as follows:
In December 1967, the US 1st Cav unexpectedly air assaulted the Hoai Son ward and cut off two companies of the 22nd Regiment, which were unable to establish contact with the regiment for many days. Therefore my father on the night of December 5, 1967 decided to go, along with an adjutant and a recon soldier, to the lowland to look for those companies. They got a local partisan as a guide, but when they arrived to the area of Thi Tuong, the guide said he was not updated on the current situation there, as the Americans had occupied the area for several days. The team however decided to proceed and went into an American ambush. All three were killed. The next morning the Americans dragged their corpses to the garden of Mr Thu's aunt and left them there. Later the locals asked the Americans to bury them behind a hill in the hamlet. The Americans found a number of documents on my father, and for several days they bragged about killing a regimental commissar on their Chieu Hoi loudspeakers, so quite a lot of locals learned about that fact. In 1992 I was in the Thi Tuong hamlet, I managed to find a few locals who took part in the burial, they told me similar information, and described the look of all three men to me. (I assume ?) it would be possible to find the corpses using their information, even if they had not been brought to the local military cemetery. I then visited the cemetery, but many graves were unmarked, and I could not find my father's name either. In August 2015, I contacted the Liaison Committee of the 3rd Division, they sent me some documents that the Americans captured when my father was killed. I send them here attached.
************************************************** ***********