From what I know this is all right, I'm not trying to detract from ACG at all, I'm trying to help an organization that I've been a long time member of and have had a lot of fun in. As a collective we are known as
The Emperor's Hammer
a fictional Imperial Remnant group in the Expanded Universe. We have multiple factions (the three main ones here):
The TIE Corps
:
This is the main meat and potatoes of our organization. It is based around all of the Lucasarts Flight Sims, including TIE Fighter, X-wing vs TIE Fighter, and X-wing Alliance. We also do fiction (short stories and such), graphics creation, and run-ons (stories told by multiple people in a forum all the people progress the story line as they post). I am a Wing Commander of Wing XIX of the ISD Subjugator.
"My" page:
http://www.ehtiecorps.org/rosters/pe...p?record=11335
The Hammer's Fist:
This unit was based around any and all of the Star Wars FPS games like Dark Forces and Jedi Knight and later the Battlefront games. But now it may be reformed with a new platform. First Strike, a mod for Battlefield 2142.
The Dark Brotherhood:
I really don't know the origin of this group though I am a member. I think it was created just so we could have Sith type characters as well and it supports three organizations: the Sith go more towards the flight sims again, the Krath are more about writing stories and having fictional duels on the forums.There is also the Obelisk who are oriented towards the FPS games especially the Jedi Knight series since they include force powers and lightsabers.
"My" Page:
http://www.ehdb.net/rosters/dossier.asp?record=934
Some reasons to join:
1. Great community. I've made many friends from around the world and chat with them on a regular basis. We chat on some of our main IRC servers and through email lists and our Message Boards.
2.Chances to flex your creative muscle and technical skills. We always need coders, HTMLers, 3d and 2d graphics artists, and writers to help out. Not all of us are web page design wizards but it helps.
3. Pimp uniforms!
This is my current one for the TIE Corps its a Dress Uniform: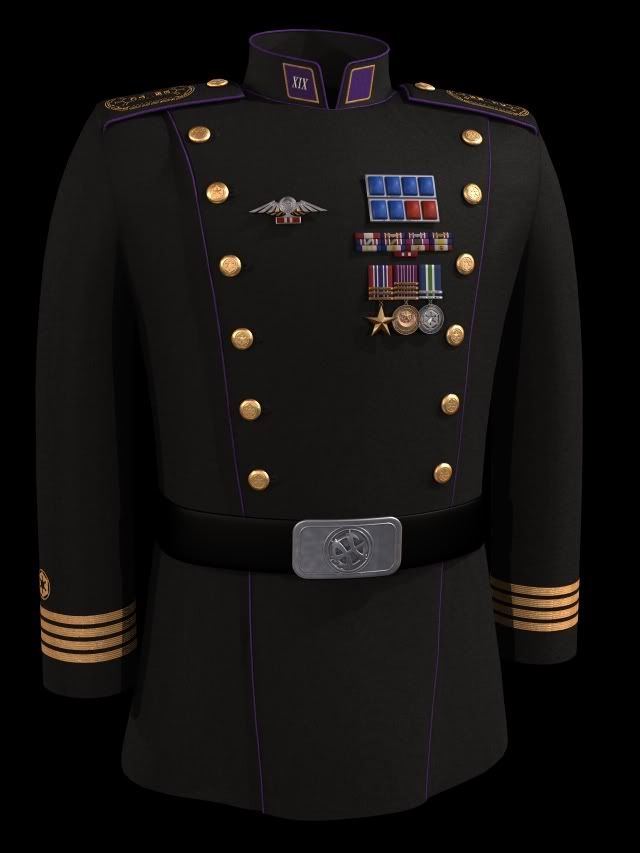 We also have the more recognized "Duty Uniforms" (This is the Fleet Commander's, he's the current club owner after the original owner turned it over to hiim):
For explanations on everything:
http://wiki.emperorshammer.net/?title=Uniforms_%28TC%29
If you do want to join tell them PIN # 11335 or Kadon Beir sent you. ANd please if you want you can join my Wing
if the other groups appeal to you then check out their respective websites and join, but I can't help you there being a low key member in all cases. I'm trying to help out a club that was once really famous around the world and seen in gaming magazines and star wars magazines. So if any of you can find the time to help I'd be grateful. If you end up in my wing, your activity just needs to be consistent. Low or High as long as you continue to perform on a regular basis I will be happy and will see you promtoed and rewarded.
http://www.ehtiecorps.org/join.asp
Pretty much what I said in Youtube format:
And of course:
May the Force be with you.