The "International Day of United Nations Peacekeepers", May 29, is "a day to pay tribute to all the men and women who have served and continue to serve in United Nations peacekeeping operations for their high level of professionalism, dedication, and courage and to honor the memory of those who have lost their lives in the cause of peace."
https://en.wikipedia.org/wiki/Intern...s_Peacekeepers
The Prime Minister, Justin Trudeau, today issued the following statement on the International Day of United Nations Peacekeepers:
"Today, we salute United Nations peacekeepers, past and present, who have dedicated their lives to the pursuit of peace, safety, and freedom for others. They have greatly sacrificed to provide hope and security for the most vulnerable persons around the globe.
"Peacekeeping has a deep connection to Canadian values and leadership. The first UN peacekeeping mission came about in large part due to the efforts of Lester B. Pearson, our fourteenth Prime Minister, and the leadership of UN Forces Commander E.L.M. "Tommy" Burns. Together, their actions during the Suez Crisis of 1956 marked the beginning of Canada's identity as a peacekeeping country.
"Since then, UN peace operations have evolved from separating belligerents and monitoring cease fires to protecting vulnerable populations and working to establish the conditions for durable peace. As conflicts have grown in intensity and complexity, so too have the risks for UN peacekeepers who put their lives on the line for the safety of others.
"On behalf of all Canadians, I commend UN peacekeepers for their selfless work and tremendous contributions to the advancement of global peace and human rights. We will continue working with the UN to promote peace and the resolution of serious conflicts around the world."
http://www.pm.gc.ca/eng/news/2016/05...s-peacekeepers
From:
http://www.warplane.com/vintage-airc...?aircraftId=12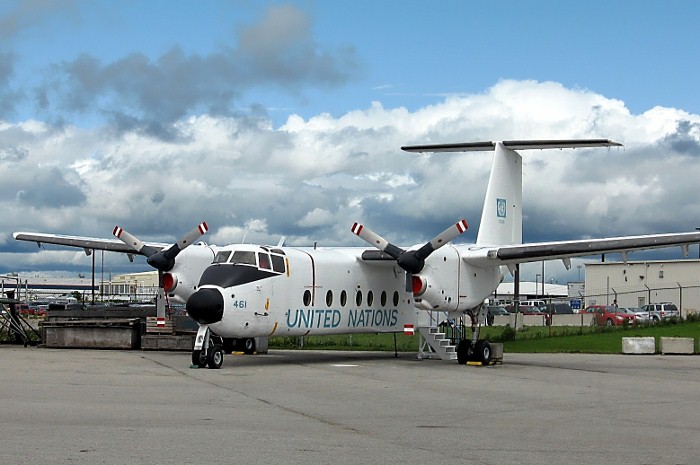 De Havilland Canada designed the DHC-5 Buffalo as a more sophisticated version of the DHC-4 Caribou STOL military transport, starting in 1961. In March 1963, the US Army awarded de Havilland a contract for four aircraft (CV-7A), each capable of lifting a payload of 12,000 lbs. Development proceeded quickly and the first DHC-5 flew from Downsview in December 1964. By September 1965, the four Buffaloes had been delivered to the US Army, but were the only ones supplied because of a policy change within the US military.
The Canadian Department of Defence ordered fifteen DHC-5s in December 1964. These aircraft, designated as CC-115s by the RCAF, had up rated engines, but were otherwise similar to the US CV-7As. The first Buffaloes entered RCAF service in Montreal in 1967 and were used for paratroop training, supply dropping and tactical tasks. Later they moved to other bases, where much of the fleet was assigned to search and rescue duties.
Between 1975 and 1979, Buffaloes of No. 116 ATU were deployed to the Middle East in support of UN peace keeping missions. Flying under UN colours, the aircraft flew regularly between Cairo, Beirut and Damascus. On August 9, 1974 when flying over Syria, a CAF Buffalo was shot down with the loss of all nine crew – the largest loss of Canadian lives on a UN mission.
Several CC-115s remain in Canadian Forces service today as search and rescue aircraft, with No. 442 Squadron at Comox, BC. The Buffalo's ability to operate from small rough air strips, allowing evacuation of ill or wounded personnel, is greatly prized.
A total of 126 DHC-5 Buffaloes were built by de Havilland Canada from 1965 to 1986.
The Museum's de Havilland DHC-5 Buffalo was completed at Downsview, Ontario in May 1978 and was one of four aircraft built for the Sudanese Air Force. The Museum received the airframe from DAC International in January 2003. The aircraft has been restored as Canadian Armed Forces DHC-5, #115461. "461" was flying under United Nations colours in the Middle East on August 9, 1974, when it was shot down over Syria killing all nine Canadian servicemen on board. The Canadian Warplane Heritage Museum's Buffalo was dedicated in August 2009 to the thousands of Canadian military personnel who have served as UN Peace Keepers.