In your opinion, which of these two warship types was most significant, influential and/or effective?
Feel free to apply those criteria as you please, along with any others you think appropriate.
Note: Suggestions for some additional criteria are at the foot of this post.
According to the criteria as you see and apply them, please vote for your preferred candidate in the attached poll.
If your chosen criteria are significantly different from those suggested, telling us what they are and why you used them would be helpful.
20. European Fighting Cog 12th - 14th Centuries
The cog was a type of small-to-medium sized ship built initially for trade but also commonly adapted for warfare.
Cog hulls ranged from about 15 meters to 25 meters in length (49ft to 82ft) with a beam of 5 to 8 meters (16ft to 26ft); the largest cogs being able to carry up to about 200 tons.
Cogs first appeared during the 10th Century (900's) and gradually became more widely used.
By the 12th Century a number of non-Mediterranean European powers had adopted them as their primary type. This was particularly true for much of the Baltic region.
Cogs were often at least partly clinker-built (hull planks overlapping at the edges) particularly in the earlier years. The timber used was generally oak or other hardwoods common to that part of Europe.
Many cogs were provided with both "forecastles" and "stern castles" on their superstructures; for defence in commerce and for use as fighting ships when required. Some, however, had stern castles only.
Many early cog types were both oar and sail powered but as time went by and sails were improved, oars became much less used.
Some early cogs were fitted with a single mast but typically, the standard arrangement became a main mast and foremast.
The sail plan would typically be square-rigged but a substantial number of cogs used lateen sails, especially by the 14th century.
I think it is quite reasonable to consider the cog as an intermediate step leading to the likes of carracks and caravels, which in turn led to the galleons of the 16th and 17th centuries.
This first example shows a late 12th century armed cog.
In this drawing, we can examine a (probably) 13th or 14th century cog both in overall and "cut-away" views.
It has the less common but generally more effective lateen sail plan.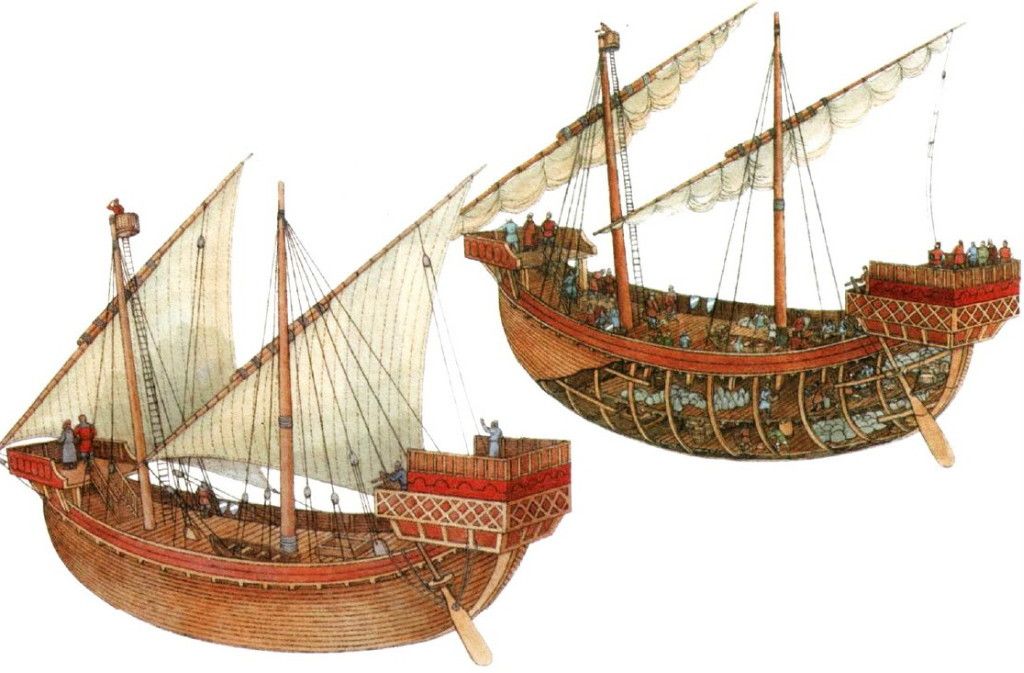 This photo shows us a modern reconstruction of a Hansa cog, dating from about the 14th century.
It is towards the larger end of the size range and has a relatively large forecastle as well.
The term "Hansa" refers to the Hanseatic League.
This was a confederation of merchant guilds and their market towns, originating in the northern German region from the late 12th century.
The Hanseatic league grew across that general area and came to dominate trade in the region for the better part of three centuries at least.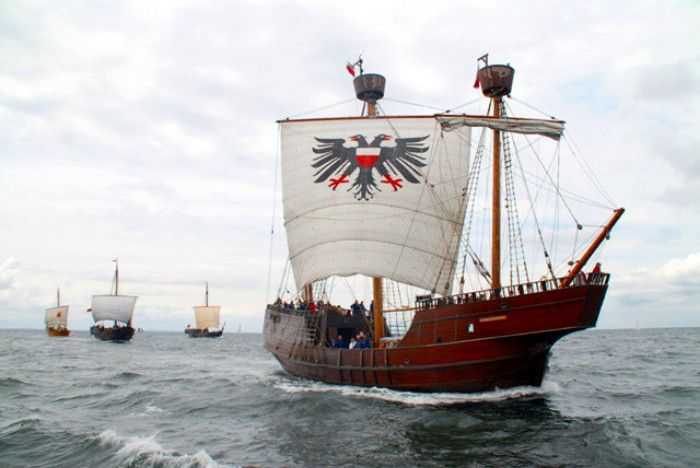 22. European Fighting Carrack 14th - 17th Centuries
The carrack (also called
nau
by the Portuguese) was developed from the late 13th to the 15th century.
It was the immediate predecessor of the galleon and pioneered most of the salient features of that later type.
Carracks were, typically, three or four-masted ocean-going ships; essentially, developed from the cog but on average, somewhat larger.
Sail plans were usually either square-rigged or, more commonly, a combination of square and lateen.
As with the cog they were used for trade and for warfare.
They also got used for exploration; especially to the New World (the Americas); and for the trans-Atlantic slave trade, among other things.
Carracks continued in use for some time beyond their heyday; and after they had evolved into the first galleons of the 16th century.
Carrack hulls were typically carvel built.
That is, rather than being "clinker built" with the external planking having overlapping edges, the planks or strips of wood were laid edge-to-edge.
This offered the possibility of higher speeds due to a smoother and more streamlined finish to the hull.
It depended on revision of internal framework design, which gave equal or better external rigidity without the need to overlap the planks.
Indeed, when properly done the resulting hull strength was at least as good, if not better, for the same or lesser overall weight.
The main differences between carracks and galleons were in the combination of hull shape and relative prominence of certain features.
For example, galleons generally tended to have a proportionally smaller forecastle than carracks, although the high and prominent sterncastles remained in some designs, particularly those of the Spanish.
Galleons were also eventually developed to carry heavier armaments and were built to larger sizes.
Essentially then, the galleon was a more highly developed, sometimes larger, carrack.
This first picture is a "cut-away" drawing of
Vittoria
(Victoria), a Spanish carrack used in Ferdinand Magellan's voyage to the East Indies.
It was also the first ship known to have successfully circumnavigated the World.
The expedition set out with five ships on August 10, 1519 but Vittoria was the only ship to complete the voyage.
She returned home on September 6, 1522. Unfortunately for Magellan, he was killed in the Philippines and therefore never made it back.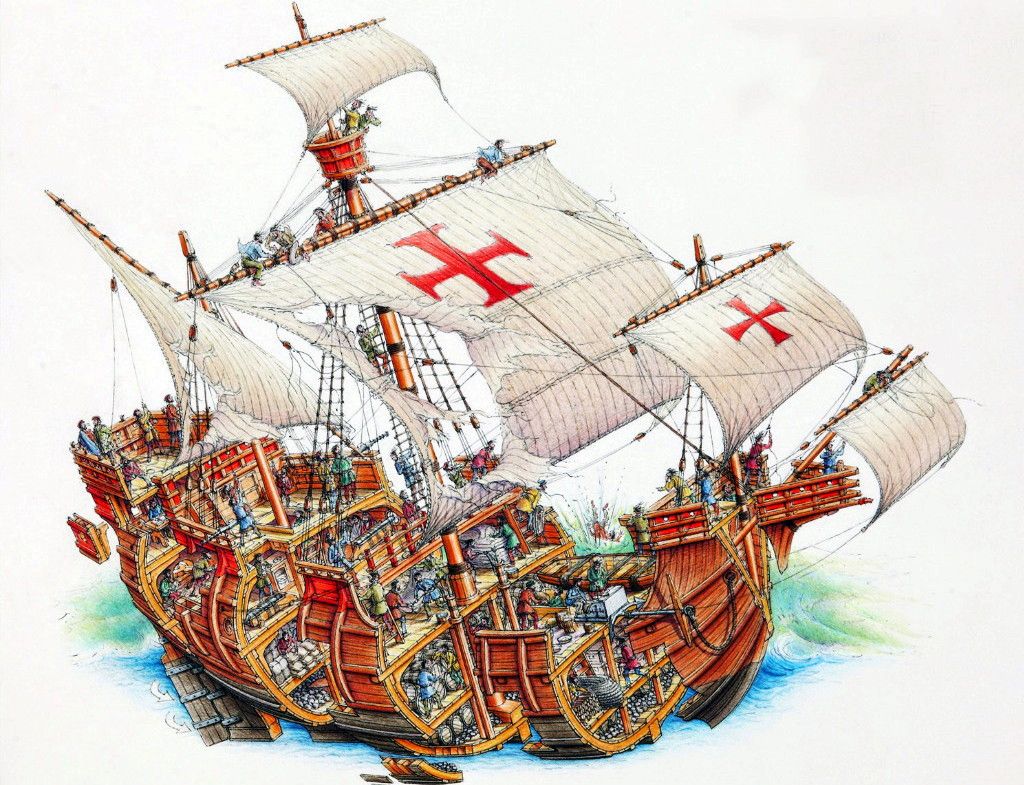 This second picture illustrates the Flor do Mar, a Portuguese carrack built in 1502.
She was intended for the Portugal-India run and was one of the finest vessels of her time.
At 400 tons displacement, she was also the largest carrack to date. Flor do Mar served very well for her relatively short life.
She was lost in a storm in the Strait of Malacca, sinking during the night of 20 November 1511, off Timia Point in the Kingdom of Aru, Sumatra.
This final picture shows the Mary Rose, an English carrack built and serving during the reign of Henry VIII.
She was launched in 1511 and was one of the largest and most effective carrack warships built, having had a successful career spanning some 33-34 years.
Mary rose sank during an engagement with French galleys in 1545.
Well then, my friends ... what say you?
Which of these warship types will you vote for?
Suggested additional criteria you might wish to consider, along with any others you deem appropriate.
(Note: Some of these could be considered already covered by Significant, Influential and Effective)

Which warship type ...

was the best?
was the greatest?
was the most widely used?
had the greatest longevity in service?
was the most versatile?
represented the best value for the cost/effort invested ("bang for the buck" in today's language)?
was the easiest to operate?

Any other criteria you have applied (please tell us what they were).