In your opinion, which of these two warship types was most significant, influential and/or effective?
Feel free to apply those criteria as you please, along with any others you think appropriate.
Note: Suggestions for some additional criteria are at the foot of this post.
According to the criteria as you see and apply them, please vote for your preferred candidate in the attached poll.
If your chosen criteria are significantly different from those suggested, telling us what they are and why you used them would be helpful.
3. Sea Peoples' Warship, 1200-1150BC
This first drawing shows one type of Sea Peoples' warship, based on artwork from Egyptian sources.
Available evidence is thin, but there does appear to have been some variation to their ships designs, as we should expect.
From what I can discover, none of the artwork illustrates these warships with oars out. However, it seems unlikely that they would have been purely sail powered; especially with a square-rigged sail plan.
Perhaps a more plausible explanation is that the crew would ship their oars (stow them) just prior to engaging in close combat.
It is also possible that the entire complement of their ships was trained troops, rather than having a dedicated crew who were specialized oarsmen first and (perhaps reluctantly) fighting men second.
The Sea Peoples seem to have been a confederacy who were - among other things - raiders & pirates; pillaging coastal towns and settlements in the Eastern Mediterranean.
In particular, they were dedicated enemies of the Egyptians and there must have been numerous naval clashes.
Here, we see a slightly different design of Sea Peoples ship, engaged in a landing.
I'm guessing that the figure in the foreground is the commander and the crew looks as if they are starting to prepare for some action.
Shown below, another nicely rendered illustration; this time of a large scale engagement between Sea Peoples' and Egyptian fleets.
4. Greek Monoreme/Triaconter Galley (early), c 700-600BC
This photo shows a wooden model of an early Greek monoreme galley; monoreme meaning a single bank of oars on each side.
It is of a general type that would likely have been in use around the above date.
The earlier forms of ram were relatively simple extensions of the ship's bow, with some reinforcement added.
Almost certainly, "cutwaters" appeared first; these being strengthened, streamlined extensions of the lower front portion of the bow, to help speed through the water.
It's not hard to imagine how this idea would have evolved into a dedicated ram.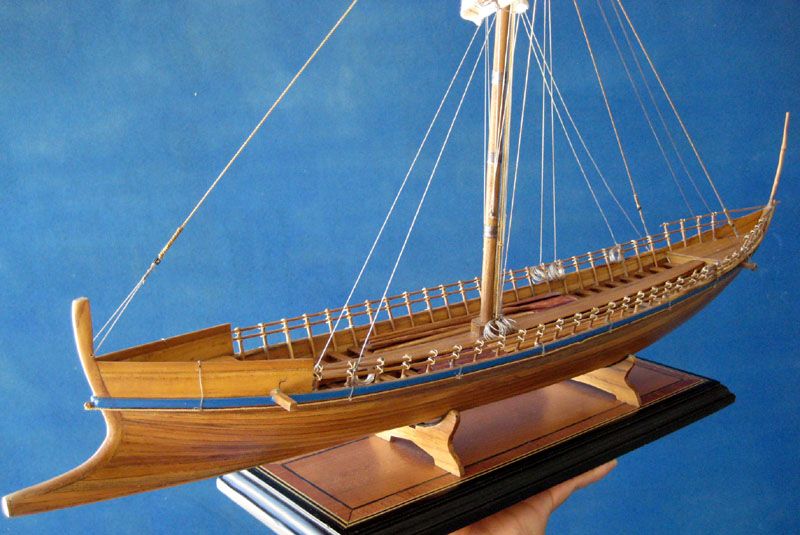 The drawing below shows another, not quite so early, Greek galley with a bit more development and refinement than most earlier galley designs.
The exact type of ram shown here may not have been seen until perhaps a century or so after this date.
However, based on available evidence the drawing is otherwise about right for this time.
A typical and common version of this Greek type is the "triaconter" (or "triakonter") which refers to the number of oars; 15 each side for a total of 30.
However, the size of the ship - and therefore the exact number of oars - could vary a fair bit.
General evolution of galley design, as shown here, occurred across many of the Mediterranean nations and peoples.
It was not confined to the Greeks; many newer and more progressive ideas spreading and being copied or adapted by others.
Neither was it necessarily the Greeks, in particular, who set new trends in design.
However, as is generally the way with technological and other advances, new ideas that worked well caught on and spread pretty quickly.
Here is another Greek galley, being the same basic type as shown above but with a more streamlined hull and from a somewhat later date.
Notice that in this case, the ship has 32 oars (16 per side). As mentioned above, such variations were not at all uncommon.
I have included it to show a little bit of "evolutionary" progress in design, including a later type of ram.
Well then, my friends ... what say you?
Which of these will get your vote?

Suggested additional criteria you might wish to consider, along with any others you deem appropriate.
(Note: Some of these could be considered already covered by Significant, Influential and Effective)

Which warship type ...

was the best?
was the greatest?
was the most widely used?
had the greatest longevity in service?
was the most versatile?
represented the best value for the cost/effort invested ("bang for the buck" in today's language)?
was the easiest to operate?

Any other criteria you have applied (please tell us what they were).