Battle of the Golden Spurs 1302
Why?
The professional French force believed that they could easily take on this Flemish rabble, largely composed of infantry. This overconfidence cost them dearly...
http://en.wikipedia.org/wiki/Battle_of_the_golden_spurs
The Battle of the Golden Spurs (Dutch: Guldensporenslag, French: Bataille des éperons d'or, or Battle of Courtrai) was fought on July 11, 1302, near Kortrijk in Flanders. After the Flemish unsuccessfully tried to take Kortrijk on July 9 and 10, the two forces clashed on July 11 in an open field near the city. The layout of the field, crossed by numerous ditches and streams, made it difficult for the French cavalry to charge the Flemish lines. Hindered by their own infantry and the tactically sound position of the Flemish militia, the French cavalry were an easy target for the heavily-armed Flemish.
The Austro-Prussian War 1866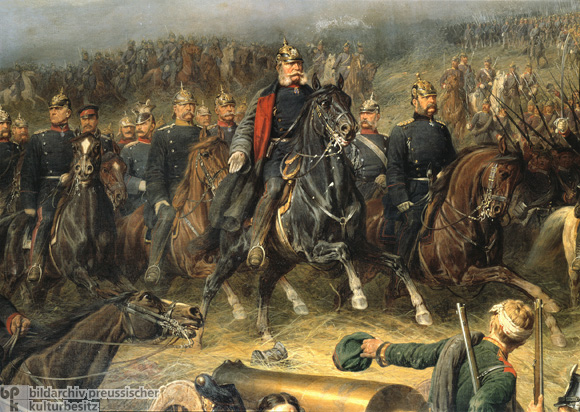 Why?
Austria goes from being the predominant power in the Germanic states to a lesser state through a series of bungled & mismanaged battles against their Northern neighbor Prussia.
http://en.wikipedia.org/wiki/Austro-Prussian_War
http://history-world.org/AUSTROPR.htm
From the inside flap of Geoffrey Wawro's book, "The Austro-Prussian War: Austria's War with Prussia and Italy in 1866": Quote:
In 1866, the mighty Austrian Empire was attacked by the armies of Prussia & Italy. The Prussians first overran Austria's German allies-Hanover, Hessia, Bavaria, and Saxony-and then thrust into the Hapsburg province of Bohemia. In a sequence of well-executed flanking attacks, the Prussians drove the Austrians from good defensive positions at Trautenau, Vysokov, Skalice, Munchengratz, and Jicin, and forced them back to the Elbe River fortress at Koniggratz. While the Prussians slowly encircled Austria's North Army, the Italians attempted the same maneuver against Austria's South Army in Venetia, but-in a humiliating, disastrous battle-were routed at Custoza. The Austro-Prussian War culminated at Koniggratz on July 3, 1866. There the Prussians hit the Austrians in front and flank, and nearly annihilated them, driving the North Army and its hapless commandant-General Ludwig Benedek, a pre-war celebrity accounted the best general in Europe-back to Vienna in a shattered, demoralized state.
Austria's infantry were equipped with muzzle-loading, single-shot rifle-muskets against the Prussian's Dreyse Needle Gun-a bolt action breechloader. This blunder of pitting a muzzle loader vs. a breechloader saw a 5-1 casualty ration between the two armies. Prussia managed to not use either its artillery or its cavalry in a decent manner-something that the Austrians may have taken advantage of if their strategy & tactics had been better. The biggest blunder of the war was Benedek putting his army in front of Elbe river rather than behind it. The Prussians almost blundered at Koniggratz by launching their assaults before their Second Army was in range of Austria's North army, but despite his subordinates' attempts to save the battle, Benedek did nothing until it was too late.