Napoleon's Egyptian Campaign 1798-1801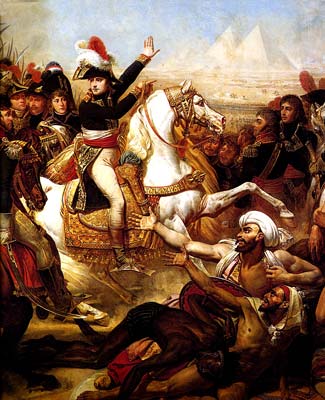 Why?
A French diplomatic blunder in Constantinople and the failure to gain the local people for the cause makes sure that the entire military – not scientific - campaign fails miserably.
http://en.wikipedia.org/wiki/Egyptian_campaign
The Egyptian Campaign (1798–1801) was Napoleon Bonaparte's unsuccessful campaign in Egypt and Syria to protect French trade interests and undermine Britain's access to India. Despite several victories and an expedition into Syria, Napoleon and his Armée d'Orient were eventually forced to withdraw by local hostility, British naval power, a newly reformed Ottoman army (Nizam-ı Cedid) and politics in Paris.
The Crimean War 1853-1856
Why?
Russia versus everyone else for control of the assets of the fading Ottoman Empire. Colossal blunders from everyone all around as far as how the war was run & fought.
http://en.wikipedia.org/wiki/Crimean_War
http://www.historyworld.net/wrldhis/...historyid=aa47
http://www.victorianweb.org/history/crimea/blunder.html
http://www.victorianweb.org/history/.../blunder2.html
Politicians & military leaders alike blundered throughout the course of this war. The battles of Alma, Sevastopol, Balaclava (including the "Charge of the Light Brigade"), Inkerman, & Eupatoria all had their moments of blunders from both sides. The British (Lord Raglan & Palmerston), French (Marshall St. Arnaud & Napoleon III), & Russian (Menschikov & Nicholas) forces all showed they had commanders capable of blunders not only in the battles listed above, but in the way that the men were supplied & the wounded taken care of…..highlighted to their respective countries because of the quickness of reporting due to the telegraph & the ability to take photographs. A tremendous storm that blew up right before winter set in destroyed most of the provisions & winter equipment that the Allies could have used to stave off disease & bad conditions for the troops.