Battle of Salamis 480 BC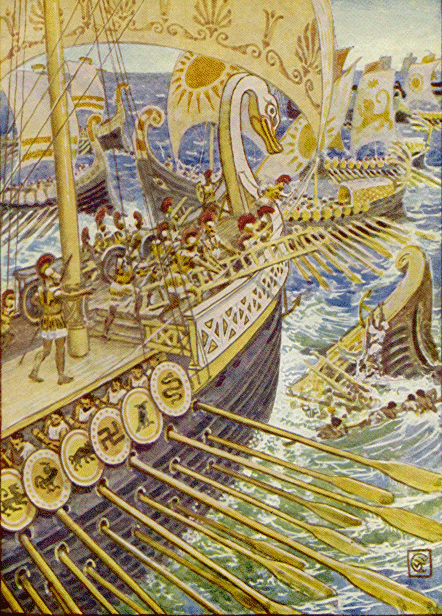 Why?
The Persian King Xerxes was too impatient to delay the battle. So he led his large fleet into the Straits of Salamis. However the straits were much too small for his large fleet. Cramped together, they were unable to maneuver as they should and thus became an easy prey for the smaller Greek navy...
http://en.wikipedia.org/wiki/Battle_of_Salamis
Although heavily outnumbered, the Greek Allies were persuaded by the Athenian general Themistocles to bring the Persian fleet to battle again, in the hope that a victory would prevent naval operations against the Peloponessus. The Persian king Xerxes was also anxious for a decisive battle. As a result of subterfuge on the part of Themistocles, the Persian navy sailed into the Straits of Salamis and tried to block both entrances. In the cramped conditions of the Straits the great Persian numbers were an active hindrance, as ships struggled to maneuver and became disorganised. Seizing the opportunity, the Greek fleet formed in line and scored a decisive victory, sinking or capturing at least 200 Persian ships.
The Spanish Armada campaign 1588
Why?
Bad planning, bad intelligence, a portion of bad luck and the underestimation of their Dutch and English enemies caused this huge expedition to fail miserably.
http://en.wikipedia.org/wiki/Spanish_Armada
The Spanish Armada (Spanish: Grande y Felicísima Armada, "Great and Most Fortunate Navy") was the Spanish fleet that sailed against England under the command of the Duke of Medina Sidonia in 1588, with the intention of overthrowing Elizabeth I of England.
In 1588, Philip planned an expedition to invade and conquer England, thereby suppressing support for the United Provinces— that part of the Low Countries that had successfully seceded from Spanish rule — and cutting off attacks by the English against Spanish possessions in the New World and against the Atlantic treasure fleets. The king was supported by Pope Sixtus V, who treated the invasion as a crusade, with the promise of a further subsidy should the Armada make land.
The fleet set out with 22 warships of the Spanish Royal Navy and 108 converted merchant vessels, with the intention of sailing through the English Channel to anchor off the coast of Flanders, where the Duke of Parma's army of tercios would stand ready for an invasion of the South East of England.
While awaiting communications from Parma's army, it was driven from its anchorage by an English fire ship attack, and in the ensuing battle at Gravelines the Spanish were forced to abandon their rendezvous with Parma's army.
A return voyage to Spain was plotted, and the fleet sailed into the Atlantic, past Ireland, but severe storms disrupted the fleet's course. Of the fleet's initial complement, about 50 vessels failed to make it back to Spain.