French Troops in Indian Republic Day Parade
Regiment back after 232 years
India Celebrates its republic day on 26th January by holding Military Parade. On this day we became Sovereign Republic.
We Generally invite dignitaries from all over the world. In 2015 we had
President Barack Obama
as Chief Guest.
French Dignitaries has graced us at least 5 Times.
( The Highest number Invited in our History)
Jacques Chirac,( Twice) President's Valéry Giscard d'Estaing, Nicholas Sarcozy. Now Francois Hollande.
In 2009 Indian Troops were Invited for Bastille Day celebrations in France.
Then French President Nicolas Sarkozy had invited former Prime Minister Manmohan Singh to be the chief guest at the Bastille Day celebrations.
Just like India's Republic Day celebrations, the French National Day - which is celebrated on 14 July - sees an impressive military parade
The Indian contingent of 400 personnel - comprising personnel from the army, the navy and the air force - marched 1.5 km - from the Arc de Triomphe to the presidential stand.
The contingent - led by jawans from the
Maratha Light Infantry,
one of India's oldest army regiments - marched to a 90-member Indian band.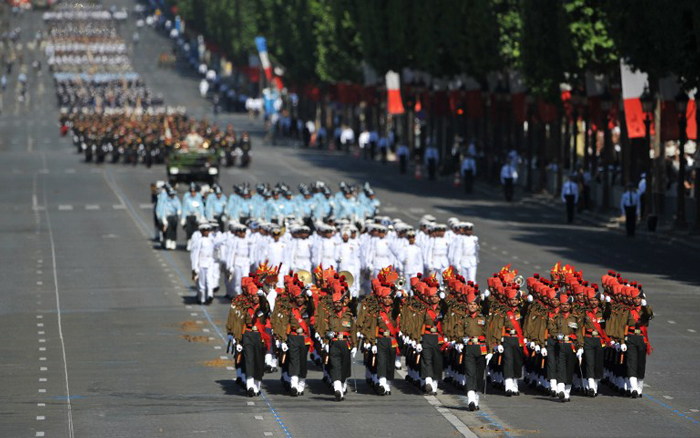 First Time in our History a Foreign contingent took part in our parade.
This year French Army's 35th Infantry Regiment, one of the oldest active regiments of France, made history as they lead the marching contingents of the parade,
http://blogs.wsj.com/indiarealtime/2...ic-day-parade/