This past Friday, partisans of all stripes went out of their way to prove that they're all equally stupid. In the afternoon, immigrant advocates demonstrated outside the Port Authority Bus Terminal Greyhound's policy of allowing ICE agents to board their buses and remove suspected illegal immigrants.
The pertinent fact that the protesters ignored was
U.S. Customs and Border Protection is allowed to board vehicles and boats without a warrant if it is within 100 miles of the border.
The other pertinent fact is that, since Greyhound's business is interstate travel, it is answerable to the Federal Gov't in virtually all aspects of its operations, ergo, if Greyhound refuses ICE agents entry to its buses as a matter of policy, then the Federal Gov't can suspend or revoke Greyhound's operating licenses. If the immigration advocates have a problem with suspected illegal immigrants being apprehended by Federal agents on Greyhound buses, then the issue lies not with Greyhound's policies, but with the Federal Government's -- and most any child whose completed a seventh grade civics class would know that.
On the other end of the spectrum, however, crass stupidity is equally in evidence.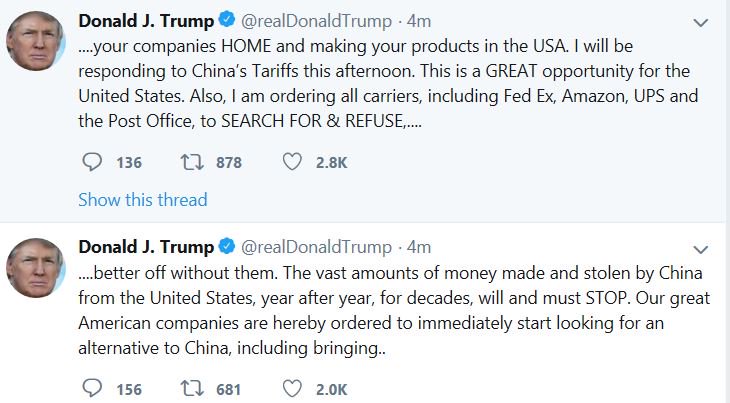 Again, any junior high schooler can tell you that a President simply can't issue such orders, at least not legally.
President Trump Opens a New Window.
's demand that
U.S. companies look for alternatives other than China Opens a New Window.
doing business should not be taken seriously, according to one Nobel Prize winner.
"[H]e can say what he likes, I think they can ignore it," Oliver Hart told Fox Business' Jon Hilsenrath during "
WSJ at Large Opens a New Window.
." "I don't think they should take it too seriously."
Hart, a Harvard professor who was the co-recipient of the Nobel Prize in Economic Sciences in 2016, was reacting to the president's tweet on Friday, in which he blasted
China Opens a New Window.
for hitting the U.S. with more tariffs.
"Our great American companies are hereby ordered to immediately start looking for an alternative to China," Trump said in the tweet.
"I wouldn't have thought they need to pay much attention, frankly," Hart said. "That sounds more like something, you know, made by President Xi in China, if he would order Chinese companies to do it, well, maybe they have to."
Ken Bertsch, the executive director of the Council of Institutional Investors, a non-profit that focuses on corporate governance, said he feels the same.
"He can say what he wants to, but companies need to have a much broader vision than that," Bertsch said. "It's not the role of the president to order companies what to do."
Hart then added the president really doesn't the power to order businesses to do anything.
"Unless Congress passes laws on this, I don't think the president is the one they should be listening to," he said. "I think they could be, again, sort of thinking to themselves what would our owners want on this?" . . . .
"Can Trump order American companies to stop doing business with China?," Fox Business News, 24 Aug 2019
A sitting President just can't order US companies to cease doing business in foreign countries -- not without some serious administrative and/or legislative action first. The People's Republic of China has NOT been declared any kind of terrorist state by the US State Dept, or the US Defense Dept, or the US Commerce Dept, or the US Justice Dept, or the US Congress -- nor has there been a declaration of war against the PRC.
Regardless of the stated affiliations of the partisans in question, the debate these days comes across like this: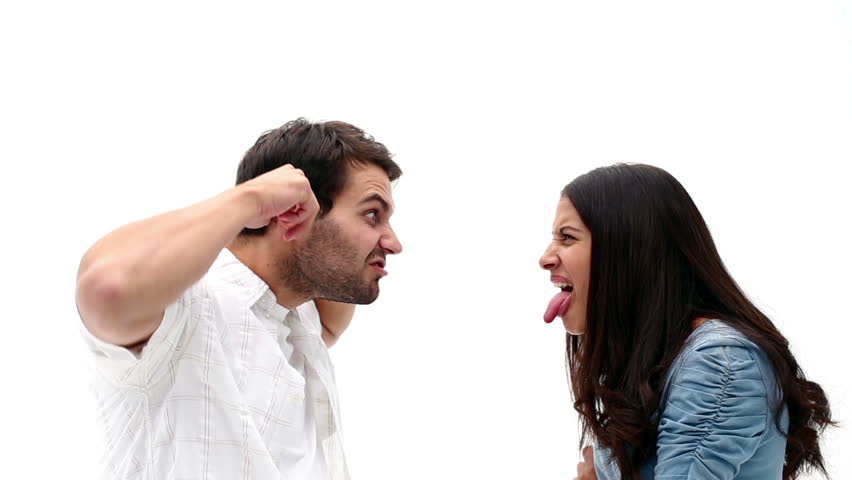 Two ignoramouses screaming their lungs out at each other, accusing each other of being intolerant ignoramouses: that's what politics sounds like these days. And finding an innocent party is getting damned near impossible. From 'most any point on the political spectrum, stupid is drowning out everything else. So the more time one spends shouting to the world how stupid Trump is, or how stupid his critics are, proves only how stupid the partisan is -- and I'd have to be pretty damned stupid to take any of them seriously.