Governor Cuomo signed a bill on Monday to ban billboards like the one above from floating in New York's waters. . . . .
People who hate the billboards
have been vocal.
After all, a view of the Statue of Liberty could be interrupted by an ad for a "Grinch" movie. A photograph of the Manhattan skyline from Brooklyn Bridge Park could be marred by "Walking Dead" signage.
There is also
a high-rise boom reshaping New York's skyline
. And people paying top dollar for pristine sightlines are not likely to enjoy seeing the floating ads.
Of course, some people don't mind advertising. What would Times Square be without it? But it seems few are openly calling for
more
advertising, particularly on the water.
Mr. Cuomo said in a statement that the ads were "a nuisance that blight our shores and distract from the great natural beauty of our waterways."
Banning the floating billboards, he said, would "make our waters more enjoyable and safer for everyone."
State Senator Brad Hoylman, the Manhattan Democrat who sponsored the bill in Albany's upper chamber, said, "We don't need Times Square floating past us as we relax or play."
"Why New York Just Banned Floating Billboards," by Azi Paybarah, The New York Times, 21 Aug 2019
Both the City and the State of New York permit this kind of advertising
and this kind of advertising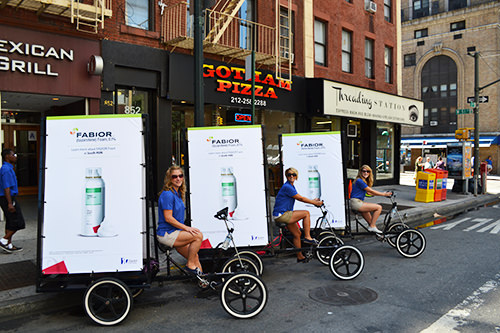 and this kind of advertising
and they actually demand this kind of advertising in Times Square.
So what does Albany and City hall have against floating advertising? It's enough to make one wonder if the owners of those floating billboards forgot to leave a padded envelop under a table or something . . . .