This is what happens when the President of the United States acts like a Third World dictator...
Thu Sep 24, 2015 6:07am EDT Related: ENVIRONMENT, GLOBAL ENERGY NEWS
U.S. climate finance in limbo, risking 'trust gap' before Paris
NEW YORK | BY VALERIE VOLCOVICI
A looming federal budget confrontation and Republican hostility to UN global-warming talks threaten a U.S. down payment into a key climate-aid fund, money considered vital to a climate deal in Paris this December.
President Barack Obama had requested $500 million in the 2016 budget for the first tranche of its $3 billion pledge into a UN-administered Green Climate Fund (GCF) that would help poorer countries make a transition to clean energy technologies and adapt to climate change.
But Congressional Republicans have vowed to oppose that spending request, and the wider dispute between the President and Republicans over the federal budget has raised the possibility that Obama will not be able to guarantee that U.S. funding before the December summit. Some U.S. officials have started to warn island states and developing countries - among the fund's main potential beneficiaries - of the looming shortfall.
[...]
"If there's not a firm commitment to financing, there will be no accord, because the countries of the (global) south will reject it," French President Francois Hollande said this month.
[...]
The House of Representatives passed an appropriations bill this summer directly prohibiting the U.S. from funding the GCF.
And an aide to the Senate environment committee aide told Reuters that Republican senators plan new legislation this fall requiring Congressional oversight for GCF funding.
[...]
Tony de Brum, foreign minister of the Marshall Islands, said countries like his that will rely heavily on climate finance have no confidence that sum will be delivered.
"The fact that the United States – which originally put the $100 billion target on the table – is yet to make its own initial contribution to the GCF is a cause for concern," said de Brum. "This is a big, gaping trust gap that needs to be filled before Paris."
[...]
Developing countries warned U.S. officials not to use Congressional politics as an excuse for not living up to their financial commitments.
"The Americans always say: 'You know how hard it is for us to deal with Congress on the budget.'," said Ronny Jumeau, UN Ambassador of the Seychelles, a member of the Association of Small Island States negotiating bloc.
"Obama cannot come to Paris and not put money on the table. He's got to put his money where his mouth is," he said.
Note to the Marshall Islands ans Seychelles:
We have this thing called a "Constitution." Maobama can't "put his money where his mouth is" because it's not his money. Only Congress can put the taxpayers' money where Maobama's mouth is... And Congress says, "No Fracking Way!"
Furthermore, there is no statistically significant sea level rise around your Third World piles of schist...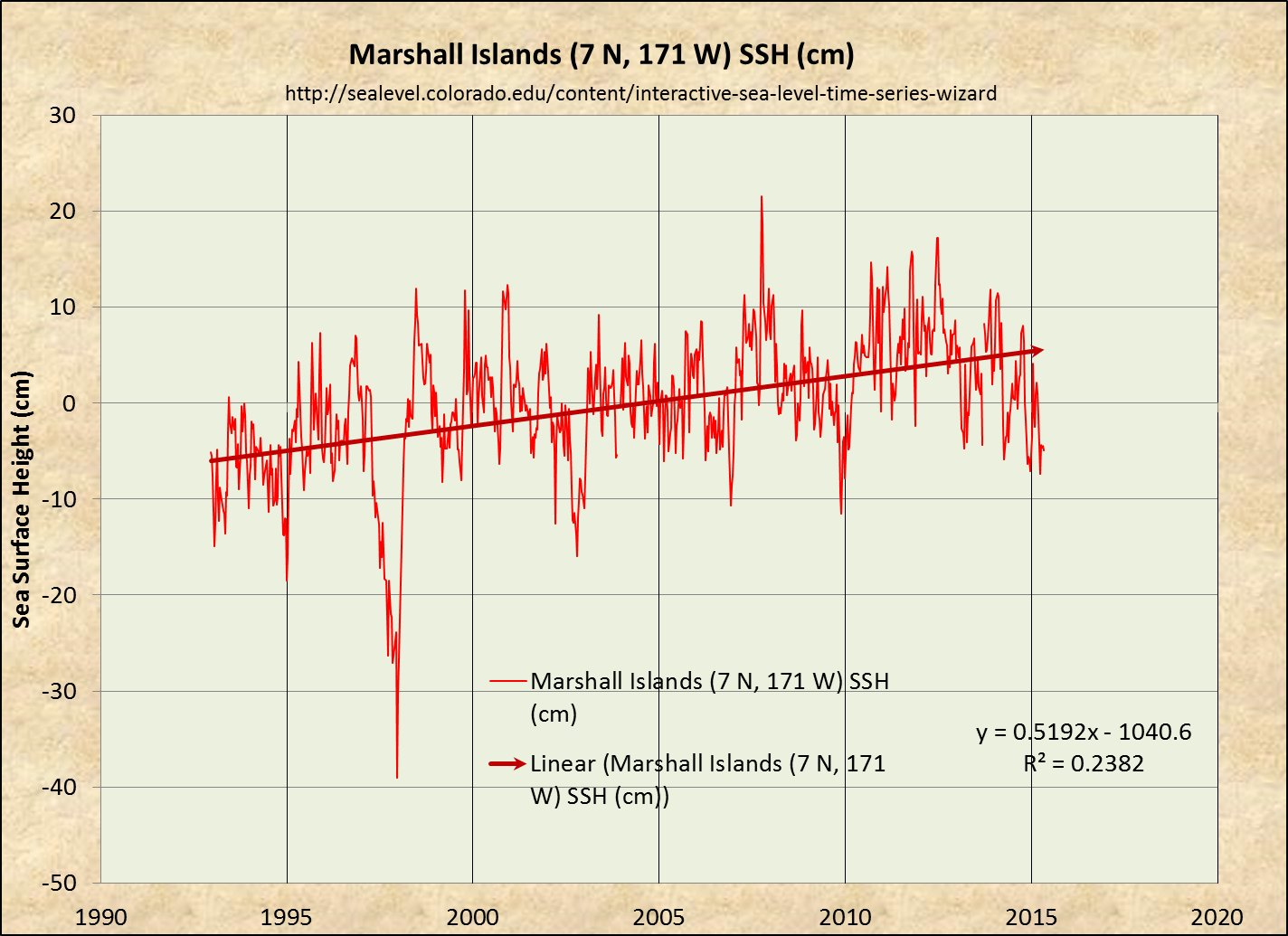 Further furthermore, sea level variations over the past 25 years are wholly insignificant relative to the topographies of your Third World piles of schist...