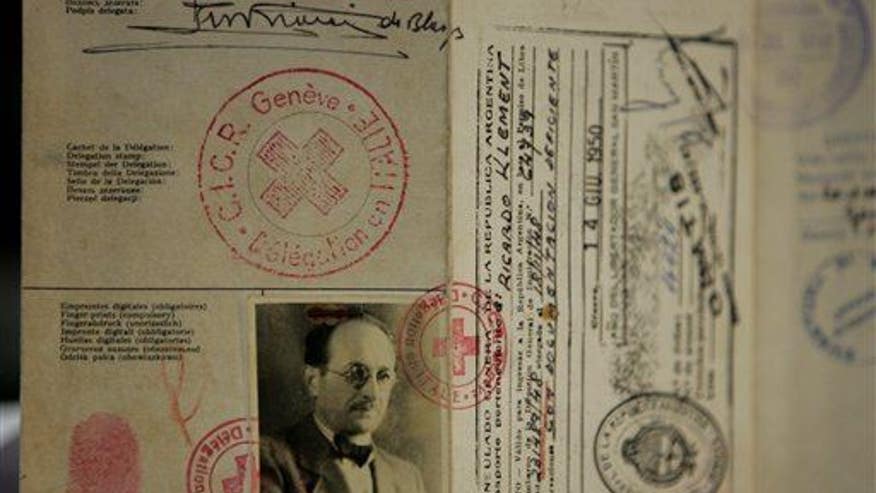 The aging cardboard passport used by Adolf Eichmann, a high-ranking Nazi who escaped to Argentina after World War II, is shown in Buenos Aires. (AP Photo/Natacha Pisarenko)
As the Nazis began to suffer battlefield reverses in World War II, they secretly began building a network of hideouts so remote that one of them has only just been discovered, according to archaeologists in Argentina.
A University of Buenos Aires team says it believes three ruined stone buildings in a jungle area near the border with Paraguay formed a lair that Nazi leaders planned to escape to in the event of defeat, the
Telegraph
reports.
They say that after months of exploring the site, which they had to cut their way to with machetes, they've found items including Nazi-era German coins, "Made in Germany" porcelain, and Nazi symbols on the walls.
The site, in a location that would make it easy to slip across the border from Argentina to Paraguay, "is a defensible site, a protected site, an inaccessible place, a place to live in peace, a place of refuge," the lead researcher tells Argentina's
Clarin
newspaper.
"And I think what we find is a place of refuge for the Nazi hierarchy." But, as the
Telegraph
notes, Nazis who made it to Argentina didn't need to hide deep in the jungle: After the war, President Juan Peron allowed the country to become a haven for thousands of Nazis and officials from other defeated fascist regimes.
http://www.foxnews.com/science/2015/...eep-in-jungle/
Part of "De Spinne" network...?