At the beginning of the session, President Obama talked about his visit to the Kensington Palace, where he met the Duke and Duchess of Cambridge's firstborn. The 2-year-old was allowed to stay up 15 minutes past his bedtime to meet President Obama and his wife, Michelle.
Prince George, who was clad in blue gingham pyjamas and a white dressing gown, thanked the couple for the rocking horse they gifted him when he was born. He enthusiastically demonstrated his "riding skills." He also thanked the Obamas for the stuffed toy he was sent when his sister, Princess Charlotte, was born.
Kensington Palace shared a series of photographs documenting Prince George and President Obama's meeting.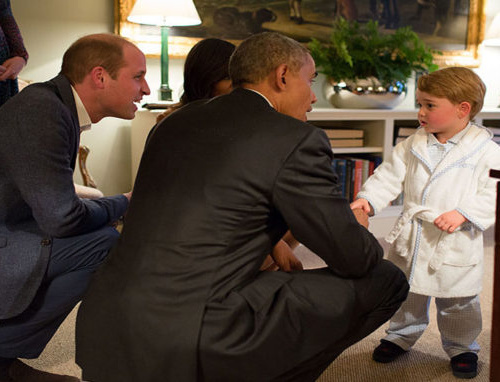 Several celebrities attended the session, including Annie Lennox, Holly Valance, and Benedict Cumberbatch. The attendees listened as the POTUS answered questions pertaining to the Brits.
http://www.inquisitr.com/3023704/pre...ng-horse-gift/
.