Greeting's All,
There's every likelihood that this question has been posed many time's over on the forum...but since I'm kind of still new I'll ask. What was/is Your all time favorite movie battle scene? (or scene's)
So many personal favorite's spring to mind from the battle of Hoth (Star Wars-The Empire Strike's Back) to the battle of Stirling (Braveheart)
If I have to choose 2, it would be the battle in Germania (Gladiator) The Roman's "Unleash hell" upon the Barbarian horde's with Catapult's, Ballista and a hail of arrow's
The Legion's close in and Russel Crowe prove's that You
can
lead a Cavalry charge through thick forest to suprise Your Enemie's at Their rear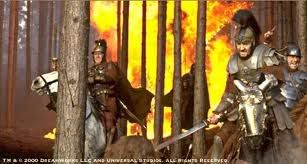 Roma Victor!