The Godfather Part 1
was the Italian-American Anti-Defamation League, Joe Colombo presiding, aka a wholly owned subsidiary of the Colombo crime family.
On June 28, 1971, Francis Ford Coppola was putting certain finishing touches to his costly, controversial adaptation of Mario Puzo's million-seller
The Godfather
. That day Coppola was shooting parts of the film's famous climactic massacre, in which Michael Corleone takes power of the New York mob by executing his rivals in a blizzard of machine gun-fire and Eisensteinian cross-cutting.
As Joe Spinell, playing one of Michael's button-men, pumped six slugs into a fictional New York mob boss trapped in a midtown hotel's revolving door, a for-real, blood-on-his-hands New York mob boss called Joe Colombo Sr, was being gunned down at an Italian-American rally in Columbus Circle, not four blocks away from Coppola's location.
The hit was the opening salvo in a vicious gang war declared by a newly released mafia upstart and criminal visionary named Joey Gallo. But it was the end of the strange connection between Colombo (who lingered in a coma until his death in 1978) and The Godfather, a movie that couldn't have been made without Colombo's say-so. . . . .
https://www.theguardian.com/film/2006/apr/22/mafia
That's Joe Colombo on the right, circa 1970. The aforementioned Joey Gallo, aka Crazy Joey Gallo, used to work the docks with my grandfather.
One of Mario Puzo's sources for his original
Godfather
was the testimony of Joe Valachi. I'm sure that he had other sources, like ones that claimed that
La Cosa Nostra
had a disdain for narcotics, which Godfather Joe Bonanno bragged about later on in his 1983 autobiography
Man of Honor.
To be frank, "deal and die" was bullsh*t. Yeah, some bosses said it -- like Carlo Gambino and his successor Big Paul Castellano, but they gladly took tribute from soldiers who dealt drugs, and as long as the envelopes kept coming without interruption, questions were rarely if ever asked. Bonanno was the biggest liar of the lot: him and his capo Carmine Galante went to Palermo's Grand Hotel des Palmes to arrange a new heroin trade with Sicilian mafiosi in 1957. (I visited that hotel myself in 1987, and had met Galante in 1978, about a year before he was clipped.)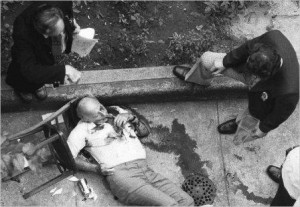 Portrayals of gangsters as pathologically violent thugs, as depicted in
Goodfellas,
were accurate. The real Jimmy Burke and Tommy DeSimone were brutal bastards, as scary as a day is long. A more accurate depiction still was
Donnie Brasco.
For the most part most wiseguys were nickel-and-dime hustlers, under-educated and really ignorant of the world outside of their local criminal elements. Airing currently on HBO is
The Deuce,
detailing the Gambino's involvement with Times Square's pornography industry as it existed in the 1970s. Haven't seen it myself, but believe you me, the mob was into porno up to their eyeballs.
So in short,
The Godfather's
portrayal of a mafia Don being a genuine "man of honor" is pure romanticism, nothing more. The reality was a whole lot darker. With that in mind,
The Godfather
films should be viewed as good entertainment, not an accurate portrayal of Italian-American organized crime.
How long have you lived in New York?