From time to time I go on Youtube and watch the various Top Ten this or that videos produced by Watch Mojo dot Com. I find them entertaining, most of them, but always interesting for the background information they include in each list. With that as an inspiration, and with full acknowledgement such list are their original idea, I decided to make a list of my own. The topic for my list certainly isn't earth shattering or even important, but it will be fun to write, and hopefully to read as a bit of diversion. Feel free to comment and either question or debate my choices, but just for the fun of it here is my personal list of:
Top Ten Science-Fiction Movie and Television Female Characters!
Sub-titled:
Top Ten Science-Fiction Movie and Television Babes!
Take your pick.
Some of my choices may be obvious while others not so much. I tend to pay attention to the supporting and background cast as much as the character leads. However my criteria for selection did not begin and end with physical appearance. Sometimes a strong female character may not be the best looking in a film or television show, but this is offset by their on-screen presence. A perfect example of this is actress Tracee Lee Cocco, a background player on Star Trek the Next Generation who never delivered a line but often did more to carry a scene than the primary cast. On occasion a supporting cast member can overshadow the lead, as viewers feel more of a connection to that character than they do the featured performer. Both Kirstie Alley's Savik from Star Trek II and Ornella Muti's Princess Aura from Flash Gordon fall into this category. Savik was wonderfully naïve while Aura was deliciously evil. Neither made my list, but both still good solid characters.
As for the movie Flash Gordon, I also liked Kala, in all that black leather…
I will, of course, attempt to justify my choices and explain why I felt them worthy of this list. Some of those selected are true kick-ass babes while others are true Science Fiction icons while others are just characters I enjoyed watching on screen. In preparing this list I also included the current rash of Super Hero movies under the umbrella of Science Fiction because, well, space Vikings and iron suits surrounded by babes is the core of classic Sci-Fi. And for those who have read my Star Trek threads, not all of my choices hail from that franchise. One or two, maybe…
Due to site restrictions I will have to break this list up into multiple post. But to begin, ranked from 10 to 1 as is done by Watch Mojo, my tribute to the Top Ten Science Fiction Female Characters begins with:
Number 10: Vasquez – Aliens
Talk about a woman who knew how to use her guns.
This movie was the absolute best of the Alien franchise, and in my opinion Vasquez was the best supporting cast member in any of them. Her line "Let's rock!" has been quoted, at least in military circles, as often as "Say hello to my little friend!" has been in the bedroom. She was a true bad-ass, kick-ass, no nonsense war fighter with far more sense than that sniveling Lieutenant the Colonial Marines took to LB-426. And when she went out, she went in a blaze of glory.
I realize the above is debatable. Many fans of Aliens would, legitimately I admit, point to either Hudson or Hicks as stronger supporting characters. But if I were counting on someone to have my back when fighting against slobbering acid-for-blood aliens I would want…ok…Hicks. Except that Vasquez had a bigger gun. However another reason I decided to include her on this list stems from the novelization of this movie. Written by Alan Dean Foster, in that work he describes the job of a Smart-gunner. He makes the point that every other member of the Colonial Marine team had multiple specialties and skills, multiple task to perform. Except for the two Smart-gunners. Their only task was to kill. Actress Jenette Goldstein accurately brought that maxim to the big screen, effectively portraying Vasquez as a confident and lethal killer.
When considering the history of Science Fiction movies made since the release of the original Star Wars, most fans would include Aliens on any list of notable Sci-Fi features. It is an iconic movie, solidly holding its place over time as one of the best ever produced. Goldstein went on to appear as a supporting actress in a number of other films, to include Terminator 2 and Titanic. But, whether she is happy about this or not, she will in all probability always be best remembered for her performance as the kick-ass and take names Private Vasquez.
My next choice may raise a few eyebrows, but hey, no guts no glory.
Number 9: Penny Robinson – Lost in Space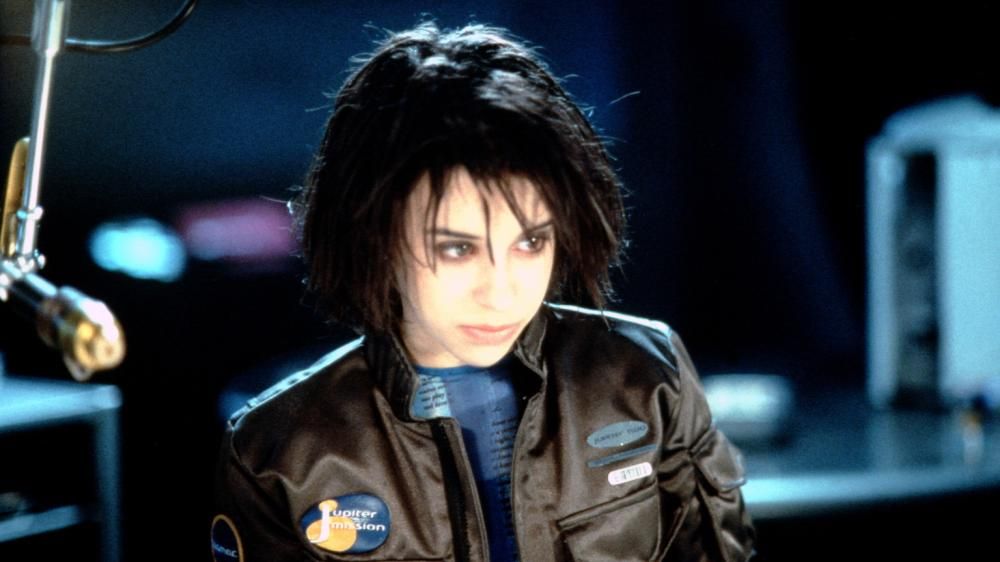 Yeah, yeah, but recall this movie was released in 1998, when both I and actress Lacey Chabert were younger. Perhaps she was too young then as well, but seriously, I liked the updated portrayal of the character. The original Lost in Space television show incarnation of Penny Robinson was that of an often spoiled little brat mixed with Lisa Simpson know-it-all sanctimonious superiority piled on top of 1960's sickeningly cute syndrome. The movie incarnation was that of a mawkish imp, a rebel with a cause made up to turn the hearts of every teen-aged boy alive and hormonal in the 1990's. And she succeeded. Following the release of Lost in Space Chabert found herself with a rather large fan base, and had I been a teenager at that time I might have joined.
However while the movie did make money and was considered a moderate success, it was panned by critics at large. One critique labeled the film "the dumbest and least imaginative adaptation of a television series yet translated to the screen." I felt this a bit harsh, as with a campy, crappy series such as the original Lost in Space was, a television show with production values below even those of the insidiously horrible Batman, I wouldn't go into the movie version expecting to see Citizen Cane. And when has Hollywood made a good adaptation of any 1960's television series? Ok, the Star Trek series did well, but anyone recall The Wild Wild West? The Addams Family? Those who produced Lost in Space at least made the effort to be different, to reinvent the wheel as best they could, as best they were allowed, to appeal to a modern audience brought up hooked on Star Wars.
Really, that shouldn't have been very hard.
Still, the portrayal by Chabert of Penny Robinson was, in my humble opinion, both effective and believable. I recall teenage angst, and dealing with teenage girls both as a High School kid and as a teacher. They are often rebellious, smug, and seldom rational. This Penny Robinson managed to be all three. Chabert took an established character, an icon of 1960's Science Fiction, and remade her in a highly believable and compelling fashion. This is the true measurement of film characters, that when watching them the audience feels some connection to that character as it is being portrayed, some empathy, followed by a catharsis when that character triumphs in the end. The Lost in Space movie may have been panned by critics and therefore one and done, but the character of Penny Robinson was forever changed in the process. If another Lost in Space movie is ever made, in crafting the character of Penny Robinson those writers won't be looking back to Angela Cartwright for inspiration, they will be looking back to Lacey Chabert and the adorable Imp she put on screen.
Thus she earns a spot on my Top Ten list.
Oh, by the way, a more recent picture of Chabert:
Perhaps they should do another Lost in Space film…
Number 8: Xev Bellringer – Lexx
Ah, as quirky as the series Lexx was, it was always worth watching for the female leads. I don't really recall much of what Zev did in the show, but sometimes that just doesn't matter. What was Lexx about, anyway? Who cares. I mean, come on. Blue hair, deep penetrating eyes, the name Bellringer, huge…tracks of land. What else does a living star-ship crewman need?
Played by actress Eva Habermann this incarnation of Zev was featured during the entire first season of Lexx and in the first two episodes of season two. She was then replaced by a red-head with a square chin. Not that Xenia Seeberg was bad looking, but still. Hailing from the planet B3K (they really knew how to party), Zev was a cluster lizard transformed into love slave. Where can I buy one of those machines? But I digress…
The plot of the series revolved around a rag-tag crew of space-faring folk on board the living star-ship Lexx, ostensibly looking for a collective home. The backdrop for this trek was interstellar war between Earth and some bugs (millions of 'me, Mr. Rico!), but the only war the captain of the Lexx, Stanley Tweedle, cared about was getting Zev into bed with him. She was a love slave after all, but for some reason could never force herself to fulfill her programming where Tweedle was concerned.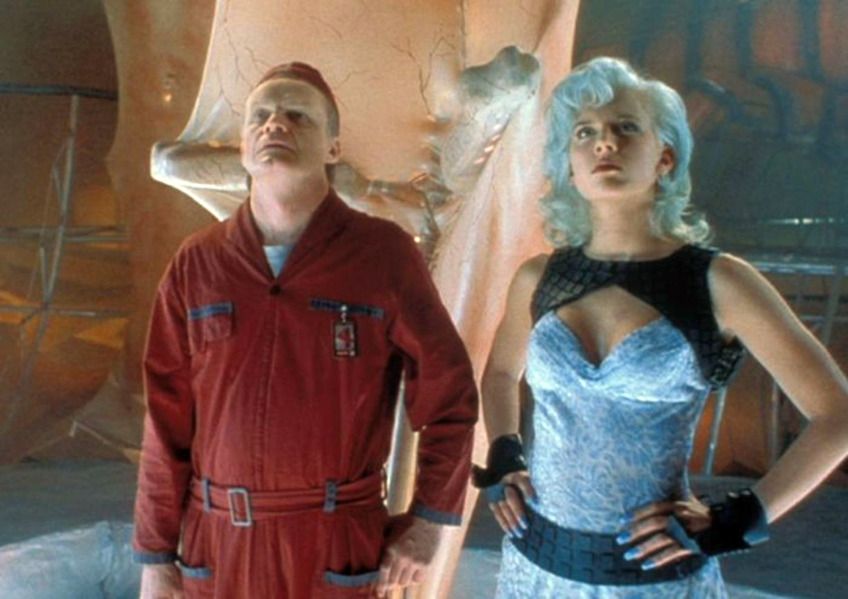 Can't blame her, I guess.
In truth I never felt the show Lexx much of a hallmark in Science Fiction television, but when it comes to Science Fiction babes, well, the producers knew what they were doing.
I recall a thread on these forums somewhere where the series Lexx came up. If there are any fans of the show as members here, let me know what you think of my placement of Zev Bellringer. Or just what you think of Zev Bellringer. For fans of Star Trek, my next selection was a tie.
To be continued.