OK, here is the map at the start of the German
(FRIENDLY
) Turn 2. There will be firing and/or moving of YOUR forces during this part of the turn.


The ENEMY will also be able to return fire at exposed/moving units.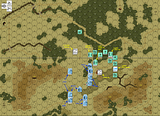 As before, y
ou can only choose 1 option for EACH platoon/Section (some have 3, some have 4).
Even if you choose an option that does not include firing, units may fire if the opportunity presents itself while still being able to accomplish all or part of their move.

The poll will stay open for 4 days (
until 16 Sep 12
).