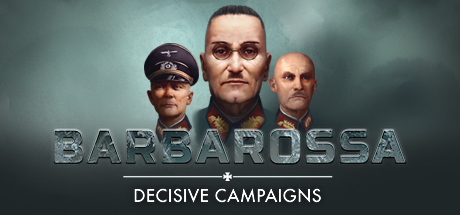 Background:
I quite enjoyed playing
Decisive Campaigns: Barbarossa
over my winter break, due to its lack of exhausting "counter porn" (I'm
looking at you
, HPS) and it's interest in representing the political and personal side of a major military campaign.
For those who haven't heard of or played this game yet - it's good, I promise, though the most hardcore of grognard's may bemoan some of the decisions made in making it more accessible - here is a flashy YouTube video which... doesn't tell you much. But it looks nice!
What I enjoy about this game is that it has a political aspect to what is still strictly a wargame. This isn't a grand strategy game like EU4 involving nation building. No, Decisive Campaigns: Barbarossa (or DC3) represents the politics within the military. Who gets access to your limited oil supplies: Heeresgruppe Nord for the push on Riga to secure their logistics train, Heeresgruppe Mitte trying to fight back a Soviet counterattack? They will remember who you favored. What happens when Himmler demands his SS be allowed to run their own campaign behind the lines? Will you spend your political capital resisting him, upsetting the Fürer? Or will you concede to his demands, earning the ire of your generals... and giving the War Crimes tribunal after the war reason to hang you?
It is a circus act, trying to keep all the plates spinning while being pelted with peanuts from the stands. Only the fate of Europe - and the world - lies in the balance.
Into this world of stiffing bureaucracy and monumental military endeavors - with a fair dash of incompetence, infighting, and petty bitterness as well - will be the most unpredictable element of all...
YOU!
The Players:
For this game, I will be taking on the role of
Generaloberst Franz Halder
, chief of the Oberkommando des Heeres (OKH) and an architect of
Unternehmen Barbarossa
.
Generaloberst and fashion icon Franz Halder
A shrewd commander and skilled strategist, Halder is one of the big names in the early successes of the Wehrmacht's campaigns. It will be my job to help bring to life - in some small way - this Bavarian traditionalist. A product of the old school German-Prussian tradition and "bound to duty and oath", in temperament Halder is a dedicated military man. For him, the Heer is an independent entity and, despite his early successes on the international stage, Halder resents the meddling of amateurs like Hitler - though how far he is willing to go to oppose the Führer remains to be seen.
You, on the other hand, get to choose which body you will inhabit.
Everyone who wishes to be directly involved will sign up to be on the staff of one of the three Feldmarschalls.
Depending on interest, numbers, and involvement, you may be alone or with a small group.
Together or solo,
you will decide the course of action for your Heeresgruppe during the campaign
, from moving your divisions to shifting your depots to which units - if possible - will benefit from command cards. And most importantly, where to attack!
*Actually, the logistics are far more important, but I'll get into that later.
But no man - or thought-collective - is an island. After all, perhaps Heeresgruppe Mitte is making a persuasive argument for the transfer of Panzergruppe 4 south to help repel a sudden Soviet counterattack. Or perhaps your orders will be countermanded by myself (or that Bavarian corporal in Berlin) to serve the needs of the wider campaign.
This isn't just a war game, after all, but a mixture of strategy, role playing, and old-fashioned diplomacy.
The Game:
Outside of the normal issues in keeping a multi-million-man invasion running, there will be other decisions to be made. Every turn I will receive a number of
random events
that I will have to deal with. My choices will be strongly shaped by
your input.
Do I retain some of the high-octane gasoline for my panzers but risk alienating Göring and the Luftwaffe when I need them most? It will be your words and arguments which will carry the day - the more persuasive the better (and shaped, of course, but our current working relationship).
Even those casual onlookers or those who aren't interested in playing a set role can still speak up and impact the game here, acting as one of the (many) voices in my head.
In the end, my goal as the host/player of this game is to give you guys as
interesting and immersive campaign as I can.
How this war progresses - and how much you're willing to work with one another - is up to you to decide. Each Heeresgruppe has its own objectives, its own commanders, and it's own historical accomplishments just waiting to be broken.
This may be the largest invasion in history, but glory (and bragging rights) are not meant to be shared...
If you are interested in being part of this campaign, head down to the post below where I lay out the three Heeresgruppe, their commanders, and give you a chance to sign up for whomever you wish!