To pass the time while I sort out the Squad game, I'll get you chaps to help me out with my latest game of Hearts of Iron. Hearts of Iron is a casual wargame set in WW2. In my latest game (as the Germans) I've set out on a different strategy to my usual and the OTL strategy.
Instead of investing heavily in panzers, I devoted all the scientists and industry I could to the Navy and Airforce. The results mixed. Because my army is nowhere near as impressive as the OTL army, I stand a much smaller chance of taking france, I've had to have less mechanization than there was in the OTL, I have a mere dozen or so Panzer Brigades (let alone Corps!), and almost no motorized infantry. Most of my army is old school infantry, though with modern equipment. To compensate, my Airforce is larger and more advanced than the OTL, however it has a different focus, there are no medium bombers and very few Stuka's, most of the airforce is fighters, with a large number of fighter bombers. The bomber wing is composed of Do-217's configured for anti-ship duties, I'll get to those soon.
I decided to strike at the low countries right after my infantry (in combination with Hungary) subdued Poland. The move turned out to be a positive one, the French were not prepared to assist in their defense and both the Netherlands and Belgium have all but fallen.
The Naval aspect of this war is where things get significantly different. Thanks to increased focus on the KM's needs, The KM has the two battlecruisers it did in the OTL, and also has
FOUR
Bismark class battleships, with nearly twice the number of destroyers and light cruisers to act as a screen. There are two small carriers (roughly the same size as the
Hermes
) to provide air cover and light strike capability. Two carriers are on the way which will be the most advanced carriers in the world when launched, they will be as fast as the Lexington while having the armor of the Illustrious class and a large plane complement to boot. To protect these carriers two more battleships are being built with AA capacities mirroring the
Musashi
.
The problems facing me are-
A severe lack of ground troops, Most of the Army is dealing with France, and while they are making headway the Reich is exposed to a surprise attack from the USSR, I hope they remain passive. War with the Soviet Union is basically impossible at this point, even with a pacified France. My armies are too small and two slow to attempt an invasion, such an endeavor will have to wait for at least three years.
A lack of strike capacity, the few bombers in my airforce leave me unable to damage British industry, though my strong Naval Bomber contingent is wreaking havoc with their convoys.
The classic German Naval Conundrum. Even though my navy is far better than the OTL navy, it's still no match for the RN, by the time I have 2 more carriers and 2 more battleships, the British will have three more battleships and four more carriers.
My current plan is to subdue France, then try and wrest naval control of the channel using my large numbers of fighters and naval bombers. Channel secured, I will try and mount an invasion of Britian, if successful I will hopefully have the time and space to build an army to invade Russia, and eventually the United States.
Lastly, here's some screens so you can see the fronts. Note, the eastern front is blissfully not in conflict, it's just there to show you how f
ed I am if Stalin goes for the backstab
Channel: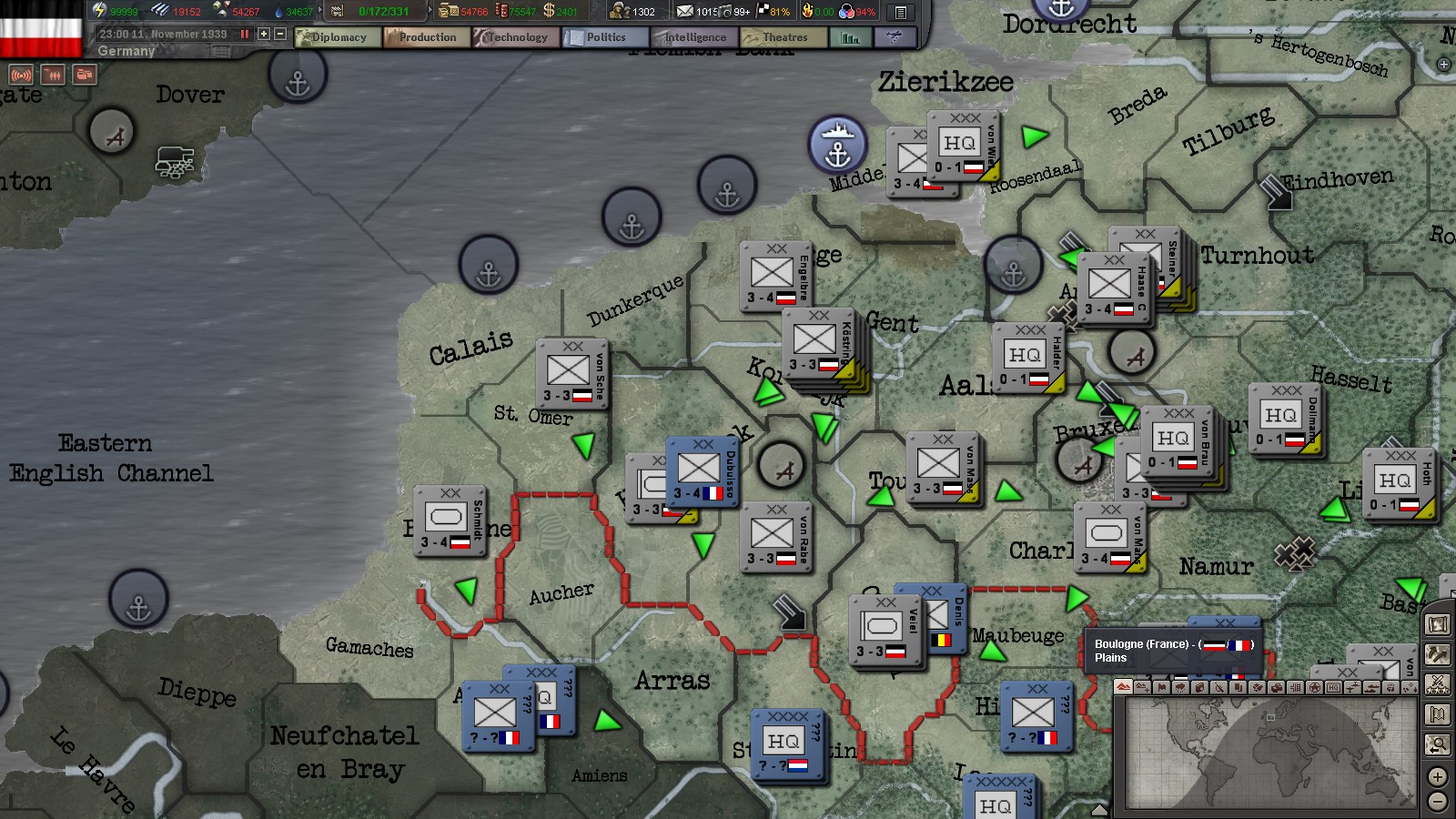 Ardennes: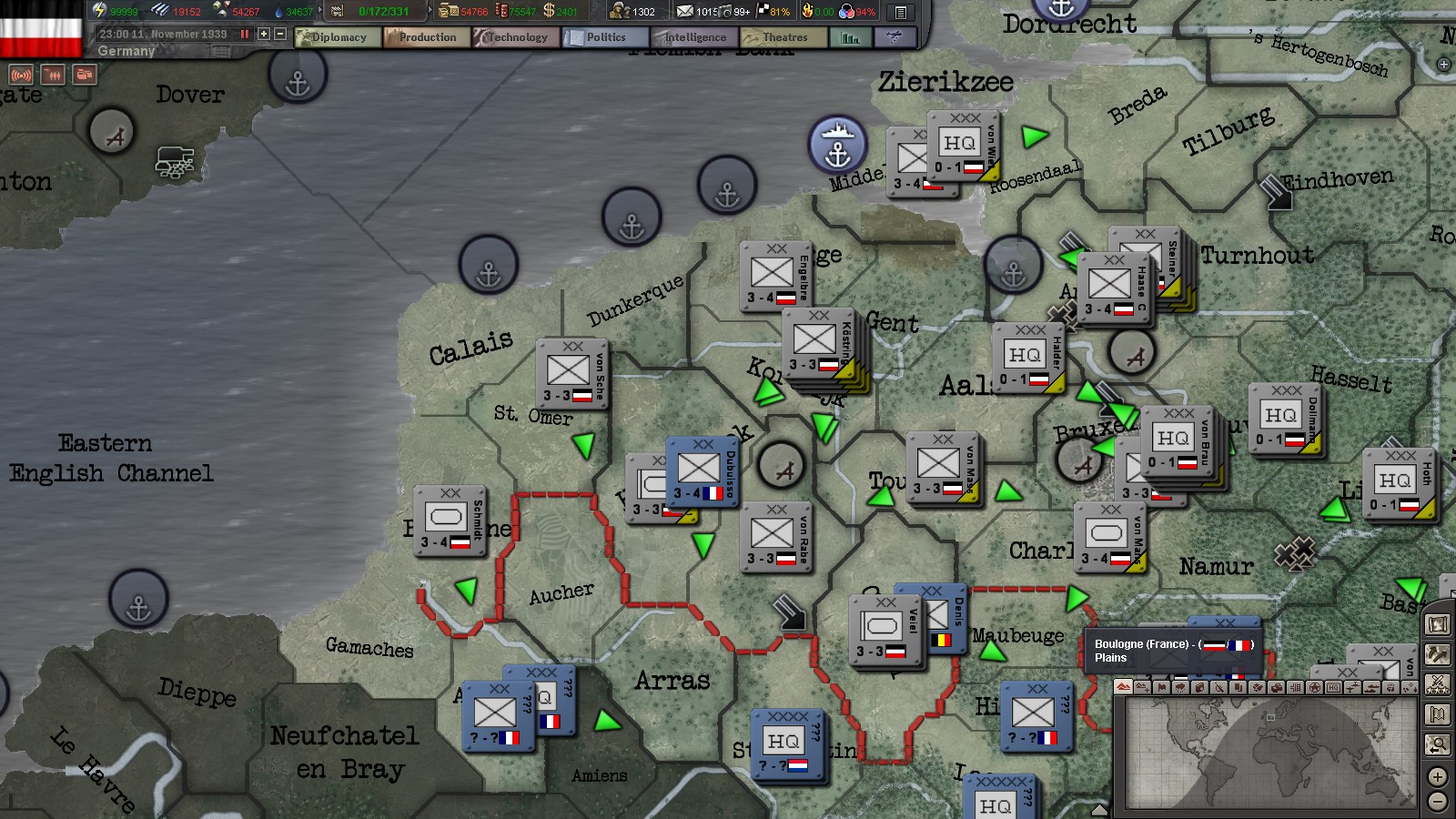 Maginot Line: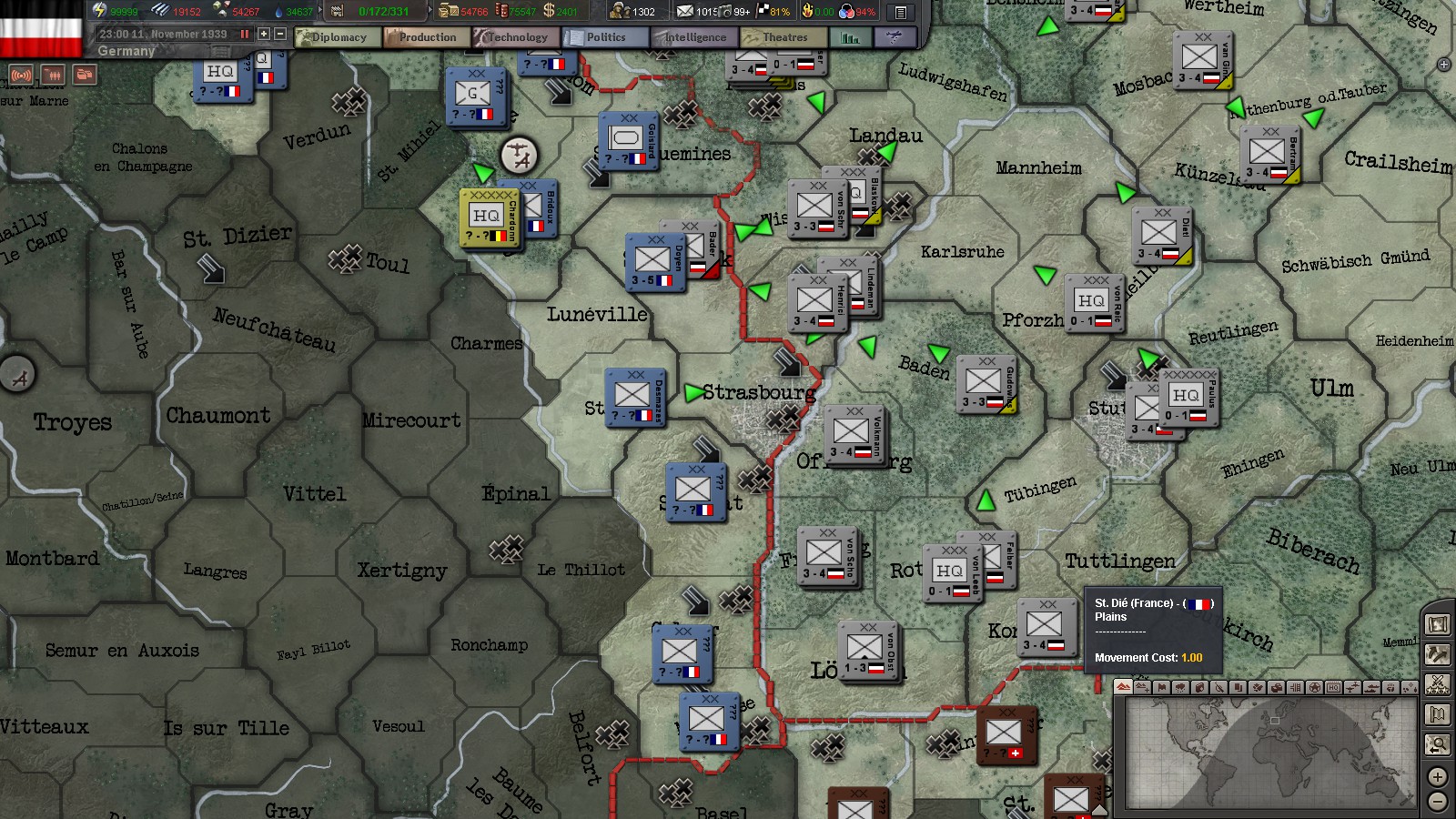 Eastern Front: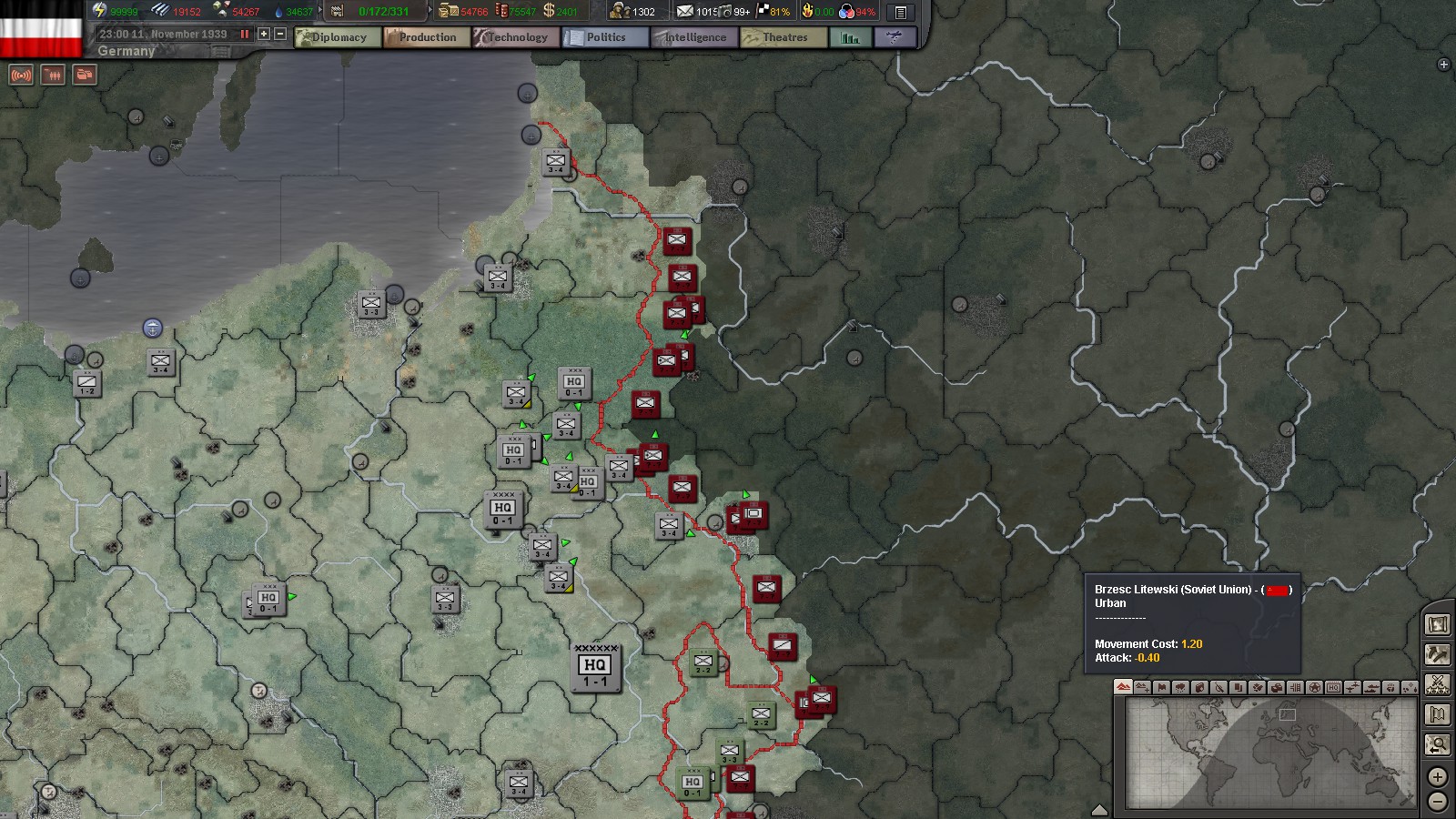 If you guys are willing I would be more than happy to delegate some commands, There's two Naval Squadrons (Bismark and Fredrick the Great, Bismark has 2 BB's, 2 BC's, the two carriers and a whole load of escorts, FtG has 2 BB's with escort), command of the U-Boat flotillas, Northern and Southern fighter command, literally dozens of Infantry Corps and a few Panzer Divisions. If you want you could become the Head of Production or Head of Technology.
What do we do next?